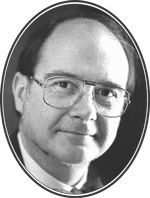 John Young, Professor of Physiology, former Dean of Medicine and Pro-Vice Chancellor at the University of Sydney, died on 10 February 2004 of acute myeloid leukaemia. He was an exceptional scientist and a humanist with a passionate and informed interest in classical culture, Reformation theology and music.
John was born on 18 April 1936 in Brisbane. He graduated from the University of Queensland with a BSc (Hons I) in pathology in 1956 and with an MB BS (Hons I) in 1960, earning the University Medal.
In 1962, after an internship at Royal Brisbane Hospital, John joined the Kanematsu Memorial Institute in Sydney, where his studies on renal amino acid transport earned him an MD from the University of Queensland (1965) and a C J Martin Fellowship from the National Health and Medical Research Council. He then joined Professor Karl Ullrich at the Physiologisches Institut of the Free University in Berlin. It was Ullrich who persuaded him to work on salivary physiology, the field that John was to dominate until his death.
John took up a Senior Lectureship in Physiology at the University of Sydney in late 1966, rising to become Professor of Physiology in 1976. His contributions to science were recognised by the award of a DSc from the University of Queensland (1975) and the Research Professorship of the Alexander von Humboldt Stiftung (1998). He was elected to Fellowship of the Royal Australasian College of Physicians (1976) and of the Australian Academy of Sciences (1986), in which he served as Vice President and Secretary (Biological).
After he became Dean of Medicine at the University of Sydney in 1989, he oversaw the introduction of the 4-year graduate program, the development of independent clinical schools, and the foundation of the Clinical School at Canberra. Between 1994 and his retirement in 2003, he was Pro-Vice Chancellor (Health Sciences). Although he was active on many boards, including those of the Central Sydney Area Health Service and the Children's Hospital at Westmead, he was particularly proud of his role in fostering the Menzies School of Health Research (in Darwin) and (in Sydney) the Kolling Institute at the Royal North Shore Hospital and the Anzac Institute at Concord Hospital.
John was always active outside his own profession. He co-edited the University of Sydney's Centenary book of the Faculty of Medicine and worked unstintingly for the Australian Physiological and Pharmacological Society and for Musica Viva. He also found time to write several biographies on important figures in Australian medicine for the Australian dictionary of biography. Most importantly, his passion for classical art and archaeology led him to play key roles in the University of Sydney's Nicholson Museum concerts and in the creation and development of the Australian Institute of Archaeology at Athens.
David I Cook
Publication of your online response is subject to the Medical Journal of Australia's editorial discretion. You will be notified by email within five working days should your response be accepted.