To the Editor: We present a case of hypotensive shock after insulin pump delivery interruption during a diabetes technology trial, and offer a systematic insulin pump troubleshooting approach.1
A 61‐year‐old woman with long‐duration type 1 diabetes using an insulin pump, coronary artery disease and hypertension presented to an emergency department with hyperglycaemia, hypotension and presyncope. She had self‐identified insulin pump delivery interruption but felt too unwell to troubleshoot independently. Initial subcutaneous insulin bolus dose administration via the pump as directed by the hospital doctor was ineffective and diabetic ketoacidosis developed. In the context of cardiovascular comorbidities and antihypertensives, including transdermal glyceryl trinitrate, the patient deteriorated rapidly progressing to hypotensive shock requiring intensive care. Insulin delivery interruption was ultimately attributed to line blockage; earlier identification and prompt administration of insulin via an alternative route may have avoided the development of ketoacidosis.
Therapeutic diabetes technology is evolving, with an increasing proportion of people with type 1 diabetes now using insulin pumps to replace lost pancreatic β‐cell function.2 Insulin pumps subcutaneously infuse rapid‐acting insulin alone, providing both background basal and bolus insulin doses. These insulin preparations have peak effect at 1–2 hours and duration of action of about 4 hours. Therefore, for people with type 1 diabetes, insulin pump delivery interruption typically causes relative insulin deficiency within 2 hours and absolute insulin deficiency within 4 hours with consequent risk of rapid development of hyperglycaemia, ketosis and ketoacidosis.3 Pump users are routinely instructed on how to troubleshoot insulin delivery problems, including proactive self‐management of pump‐related issues; however, management may revert to clinicians during acute illness. All clinicians should therefore be familiar with common complications during insulin pump therapy, and when to convert to an alternative route of insulin administration to prevent rapid metabolic deterioration.4 The treatment of hyperglycaemia and ketosis is time‐critical, and decisions regarding insulin pump continuation during hospital admissions should be individualised within the acute context.4,5 Once stabilised, patients should reconnect with their diabetes management team for ongoing education.
We present a systematic approach to managing rising blood glucose and/or ketones during insulin pump use (Box). As the vignette illustrates, individuals with medical comorbid conditions are at risk of rapid, life‐threatening deterioration after insulin pump delivery interruption.
Box – Clinical practice flowchart of steps to troubleshoot insulin pump delivery‐related problems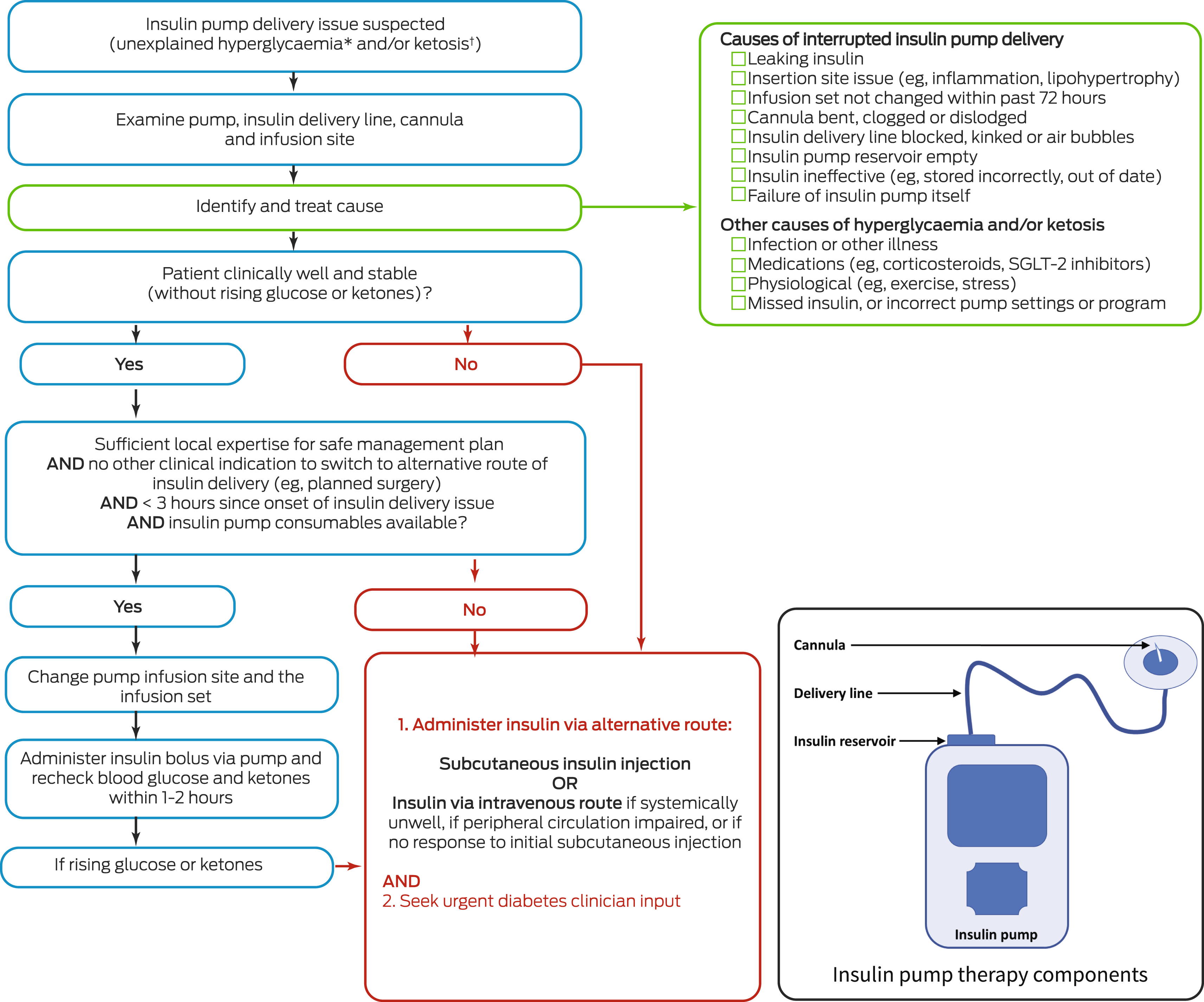 ---
SGLT‐2 = sodium glucose co‐transporter 2. The potential causes of insulin delivery interruption are presented systematically from the site of insulin delivery to the insulin pump. * Hyperglycaemia generally considered to be glucose level > 14 mmol/L. † Ketosis generally considered to be ketone level > 0.6 mmol/L. Clinicians should consider the flowchart to be a general guide; always adapt treatment approach to the clinical presentation and refer to local policies and procedures. Management of hyperglycaemia and ketosis is time‐critical; refer to the Royal Australian College of General Practitioners and Australian Diabetes Society joint clinical position statement for a primary care emergency management algorithm.4 Assess whether it is clinically appropriate for hospitalised patients to continue insulin pump therapy.5 Inset: Schematic diagram of the main components of insulin pump therapy; the insulin "infusion set" comprises the cannula (inserted subcutaneously), delivery line and insulin reservoir.
Publication of your online response is subject to the Medical Journal of Australia's editorial discretion. You will be notified by email within five working days should your response be accepted.