Talking About The Smokes
Transforming the evidence to guide Aboriginal and Torres Strait Islander tobacco control
Project leader: David Thomas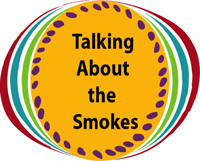 The supplement was supported by the Australian Government Department of Health
The entire supplement is available by downloading the PDF.
Talking About The Smokes (TATS) is a model for how to do a large national epidemiological project in partnership with Aboriginal communities, the National Aboriginal Community Controlled Health Organisation (NACCHO) and the Aboriginal community-controlled health service (ACCHS) sector. Research has not always been done well in or in partnership with Aboriginal and Torres Strait Islander communities, which can make undertaking research with the sector challenging. The TATS project, however, has always felt like a full and respectful partnership between the ACCHS sector and research organisations, and between Aboriginal and non-Aboriginal people. We have appreciated our involvement in all elements of the project, the clarity of the formal agreements, and the funding and support of project staff employed at NACCHO and in our member ACCHSs. Our concerns and priorities were always addressed.
The ACCHS sector recognises how important undertaking research is to reduce smoking in our communities. Because TATS has been done ethically, we can have confidence in using the evidence from this project to improve our policies and programs to reduce the damage that smoking does to our people and communities.
Lisa Briggs
Chief Executive Officer
National Aboriginal Community
Controlled Health Organisation