Fifty Indigenous high school students were given a hands-on preview of life in health and medicine last month, with a visit to Canberra hosted by the Australian National University's Rural Medical Society (ANURMS).
The Indigenous students, from the Australian Capital Territory, New South Wales and Queensland, were rotated through a series of stations covering anatomy, neurology, blood pressure and plastering.
Putting the students through their paces were members of the ANURMS, including organiser and Indigenous medical student, Amanda Steele.
"We wanted to have some fun but also get them thinking about health careers", Ms Steele said.
"I was thrilled to see them so clearly engaged, laughing and asking questions. Promoting, supporting and increasing the number of Indigenous students undertaking university health degrees is crucial to improving Aboriginal and Torres Strait Islander health outcomes."
The event was held at the ANU Science Teaching Facilities and was part of the three-day Yalbalinga ANU Indigenous Youth Camp.
Ms Steele says she and her fellow ANURMS members saw their participation as a natural extension of the Rural High School Visit program, a core activity of the National Rural Health Students' Network (NRHSN) and its 28 Rural Health Clubs (RHCs).
This is an outreach program to country schools, which promotes health careers. In 2013–2014, the clubs ran visits to 117 schools, engaging with 5300 students. More than 300 RHC members volunteered to take part.
Find out more about the RHCs at www.nrhsn.org.au
The NRHSN provides a voice for students who are passionate about improving health outcomes for rural and remote Australians, according to its website.
It has more than 9000 members who belong to 28 RHCs at universities throughout the nation. They include students from medical, nursing and allied health courses.
The NRHSN offers multidisciplinary networking, professional development and opportunities to raise community awareness of health issues.
Funded by the Australian Government, the NRHSN is supported by Rural Health Workforce Australia.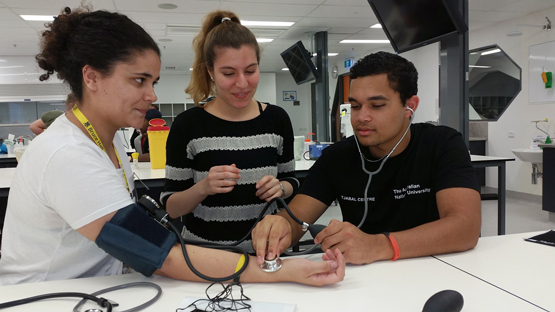 ANU medical student Kawthar Barkat supervises the blood pressure station.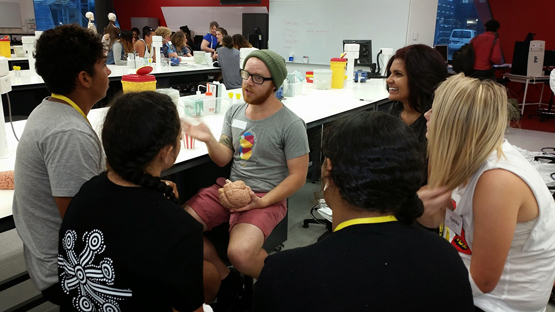 ANU medical student Joel Adams-Bedford talks about neurology and the impact of substance abuse on the brain.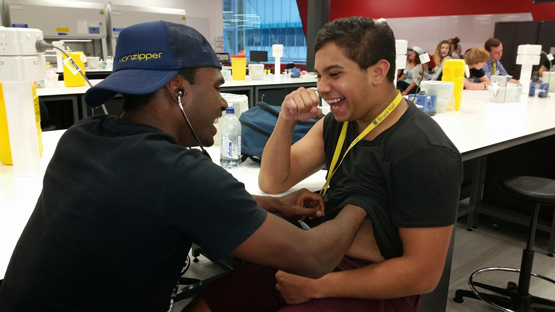 Two of the visitors enjoying themselves while listening to each other's heartbeats.
Publication of your online response is subject to the Medical Journal of Australia's editorial discretion. You will be notified by email within five working days should your response be accepted.