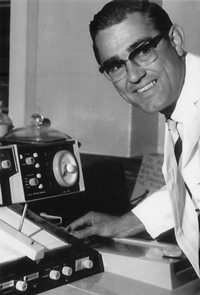 John (known as Warwick) Newman was born on 2 February 1928 at Cullen Bullen near Lithgow in New South Wales, where his father was the mines manager. He attended Sydney Church of England Grammar School (Shore) and commenced medicine at the University of Sydney in 1948. In his second year of medicine, he developed severe type 1 diabetes and needed to take 2 years off from his course. During this time, he took up surveying.
After graduating in 1956, Warwick became a resident medical officer at Sydney Hospital and then at St Vincent's Hospital, Darlinghurst. Assisting the plastic surgeons at St Vincent's stimulated his future interest in microsurgery and reversing tubal ligations. He then worked at the Royal Alexandra Hospital for Children in Camperdown, where he learnt how to perform an emergency tracheotomy.
Warwick trained in obstetrics and gynaecology at the Royal Hospital for Women, Randwick. He then took up a 1-year research fellowship at the White Memorial Medical Center in Los Angeles, where he helped to construct a fetal heart rate monitor, which he brought back to the Royal Hospital for Women.
In 1962, he travelled to London as a ship's surgeon and delivered two babies on the way. He gained membership of the Royal College of Obstetricians and Gynaecologists and developed his interest in fetal blood pH and gas analysis.
On returning to Australia, he worked at the Queen Victoria Hospital in Melbourne and then moved to Monash University, where he continued working on fetal heart rate monitoring and fetal blood analysis and specialised in colposcopy.
Warwick achieved Fellowships of the Royal College of Obstetricians and Gynaecologists in 1978 and the Royal Australian College of Obstetricians and Gynaecologists in 1980.
On retiring, Warwick and his wife Anne moved back to Sydney and lived at Avalon. During his retirement, he played golf and was well known for his psychic bids in bridge.
Warwick died on 19 August 2012 following complications from his diabetes. He is survived by Anne and their children Peter, David, Gregory and Emma.
Publication of your online response is subject to the Medical Journal of Australia's editorial discretion. You will be notified by email within five working days should your response be accepted.