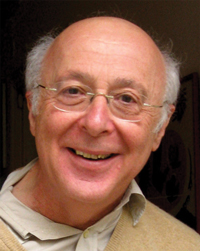 Thomas (Tom) Trauer was born in Manchester, England, on 10 November 1944. Although his Jewish parents had escaped the Holocaust, few of their wider family survived and, as an only child, Tom became the sole member of his generation. Previously qualified in Prague, Tom's father Robert repeated his medical degree in Adelaide in order to practise in Australia, and the family settled in St Kilda. While Robert practised as a general practitioner and pursued his passion for visual art, Tom attended Brighton Grammar School before commencing his psychology studies at the University of Melbourne.
He forged lifelong friendships during his study, and met his future wife Barbara through Melbourne University Choral Society. They married in London in 1971 and had two sons. Tom completed his doctorate, before moving into management roles in the Department of Psychology of King's College London and with Camberwell Health Authority.
On returning to Melbourne in 1989, Tom worked as a senior psychologist in Mont Park and Larundel psychiatric hospitals, before focusing on research through the 1990s. By the time of his death, he was Professorial Fellow at the University of Melbourne, Honorary Professor at Monash University and Visiting Professorial Fellow at the University of Wollongong.
Tom's research focused primarily on mental health outcome measurement and service evaluation, but had expanded more recently to include the mental health of the physically ill, transplant recipients, caregivers and patients with cancer. During a research career built on collaboration and the support of colleagues, he authored around 200 peer-reviewed articles and two books, including Outcome measurement in mental health: theory and practice (Cambridge University Press, 2010), which remains a definitive text of the area.
Tom's interest in mental health service development merged with his passion for travel, and he assisted with research, training and service development in China, Qatar, Laos, Vietnam, Scotland, Canada, the Netherlands, Israel and England. His passion for teaching, support for junior researchers, generosity and helpfulness were renowned.
Tom died on 10 July 2013 after a short illness and is survived by his wife Barbara and sons James and Michael.
Publication of your online response is subject to the Medical Journal of Australia's editorial discretion. You will be notified by email within five working days should your response be accepted.