Abstract
Mackay and Burnet's Autoimmune diseases, published in 1962, marked the beginning of autoimmunity as a clinical science and led to the future acceptance of the existence of autoimmunity.

While there is still controversy regarding the mechanisms of autoimmunity, the authors' insightful hypothesis based on clonal selection theory and the emergence of "forbidden clones", due to somatic mutations, is still current, with recent evidence giving further credence to this hypothesis.
Today, more than 80 specific autoimmune diseases are recognised, likely affecting over 5% of the Australian population.1 In terms of the economic burden they place on society, autoimmune diseases rank closely behind cancer, cardiovascular disease and respiratory disease.2 Fifty years ago, however, things were rather different. The concept of autoimmunity was still very much in its infancy, with many highly regarded clinicians and scientists dismissing the proposition out of hand.3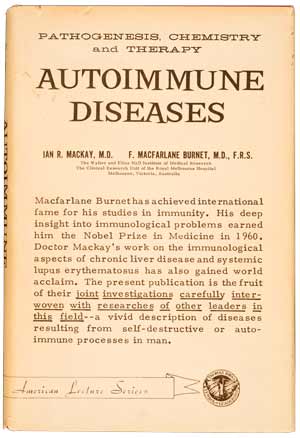 Publication of your online response is subject to the Medical Journal of Australia's editorial discretion. You will be notified by email within five working days should your response be accepted.