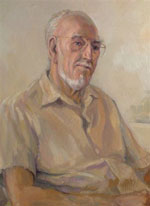 Ken Paver was an outstanding dermatologist with broad vision and a remarkable ability to get things done. To paraphrase one of his maxims, Ken had great ability to which he applied a lot of effort.
He was born in Kensington, Sydney, on 24 May 1920 and grew up in Mosman. After gaining his Intermediate Certificate in 1933, he left school to work at an insurance firm to help his family, because his father suffered from debilitating rheumatoid arthritis. During World War II, Ken served as a Private and then Captain in the Coastal Artillery. After the war, Ken studied medicine at the University of Sydney, where he met Elaine Kerr. They married in 1948 and graduated together in 1952.
In 1953, after a year of residency at Royal North Shore Hospital, Ken joined a general practice at Merrylands. While working as a general practitioner, he obtained membership of the Royal Australasian College of Physicians (RACP). He received his Diploma of Dermatological Medicine in 1964 and was subsequently awarded the medal of the New South Wales branch of the British Association of Dermatologists. He gained Fellowships of the Australasian College of Dermatologists in 1966 and the RACP in 1971.
Ken established a successful private practice in dermatology at Blacktown and was appointed Honorary Dermatologist at St Vincent's Hospital, Sydney, where he was Chairman of the Department of Dermatology from 1966 to 1975. In 1978, Ken's drive and momentum led to the establishment of the Skin and Cancer Foundation Australia, of which he was the first Chairman. He was appointed a Member of the Order of Australia in 1988.
In 1989, Ken retired to the NSW Central Coast. He became a keen woodworker, an Associate of the Securities Institute of Australia and, in 2005, a Fellow of the Financial Services Institute of Australasia. He also acquired a Bachelor of Arts in sociology and worked on writing the history of the Skin and Cancer Foundation Australia.
Ken died on 18 March 2011, and is survived by Elaine and children Graham, Rob, Phil and Cathy.
Publication of your online response is subject to the Medical Journal of Australia's editorial discretion. You will be notified by email within five working days should your response be accepted.