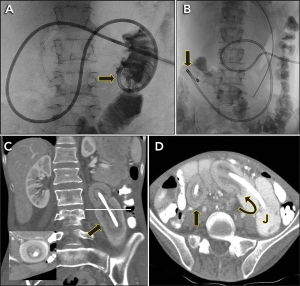 A 27-year-old woman was being treated with gastrojejunostomy feeding for severe anorexia nervosa. The position of the gastrojejunostomy tube was checked by fluoroscopy on the day of insertion (Figure, A, arrow). The next day, the patient presented with abdominal pain and "shortening" of the external portion of the tube. Repeat fluoroscopy showed migration of the tube (Figure, B, arrow). Computed tomography showed two segments of jejunojejunal intussusception (Figure, C, arrow and inset, and D, straight arrow) centred around the tube (Figure, D, curved arrow), with an intervening segment of normal jejunum (Figure, D, label J). The patient's gastrointestinal tract was intact. The intussusceptions were reduced by applying traction on the tube under fluoroscopic guidance, and the patient resumed tube feeding without recurrence.
---
Provenance: Not commissioned; externally peer reviewed.
Publication of your online response is subject to the Medical Journal of Australia's editorial discretion. You will be notified by email within five working days should your response be accepted.