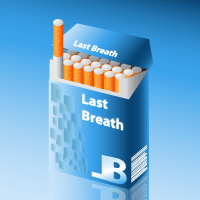 Although the public health announcements state that "every cigarette is doing you damage", many smokers believe that the amount of damage depends on the colour of the cigarette packet. Researchers used data from the International Tobacco Control Four Country Survey, which polled more than 8000 smokers from Australia, Canada, the United Kingdom and the United States. The study found that 20% of smokers incorrectly believed that "some cigarette brands could be less harmful than others". Compared with smokers from other countries, Australian smokers were more likely to believe that their own brand of cigarette "might be a little less harmful than others", with 47% of Australian smokers agreeing with this statement. Smokers of silver, gold, purple or blue brands were much more likely to agree with this statement than those who smoked red or black brands. Researchers said that the study shows that smokers believe certain colours are associated with lower harm, highlighting the importance of plain packaging, as proposed in Australia.
The full article is accessible to AMA members and paid subscribers. Login to read more or purchase a subscription now.
Please note: institutional and Research4Life access to the MJA is now provided through Wiley Online Library.
Publication of your online response is subject to the Medical Journal of Australia's editorial discretion. You will be notified by email within five working days should your response be accepted.