Gwen Fleming was born in Taree, New South Wales, on 9 June 1916, the third of John and Caroline Lusby's six children.
She graduated in medicine from the University of Sydney in 1939, just in time to answer the call to military service. Appointed to the rank of Captain, Gwen worked at Yaralla Military Hospital at Concord ("They called me 'Sir', during the war"). In 1945, she became the first woman major in the Royal Australian Army Medical Corps and was subsequently appointed Officer Commanding Medical Company.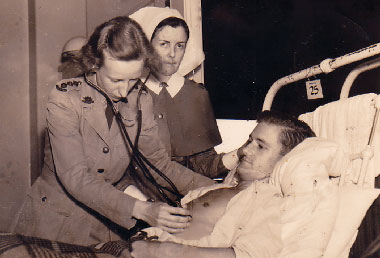 In 1945, Gwen was one of the first women admitted as a Member of the Royal Australasian College of Physicians and, in 1973, she was admitted as a Fellow.
She married the brilliant young surgeon Justin Fleming, a Flight Lieutenant in the Royal Australian Air Force, in 1946. Justin was awarded an Oxford Nuffield Medical Fellowship to the University of Oxford, and they took up residence at the Radcliffe Infirmary. In 1950, they returned to Sydney to raise what became a family of six children. The children flourished in an environment where a love of cricket, theatre, art, music and literature was encouraged. Gwen and Justin wanted happiness for their children, not duty from them. The family motto was animo toto laborate ("no half jobs").
After Justin's death in 1974, Gwen became the family breadwinner. She joined Dr Brian McEwen in his Macquarie Street practice and took a teaching position at St Vincent's Hospital in Sydney, a demanding regime that she continued until she was 77 years of age. Her patients and students were struck by her calm, clear approach which elucidated both the detail and the big picture.
Gwen was innately altruistic and held a firm Christian belief that God travelled through human action. Among the gifts that she brought to medicine were clarity of judgement, patience of manner and accuracy of diagnosis. To her, gaining the trust of the patient was part of the healing. In her last weeks, Gwen suffered from severe angina and a subsequent heart attack, and passed away on 18 January 2011. She is survived by her sister, Sr Elizabeth Lusby OP, and children Margaret, Paul, Justin, Judith and Peter — another son, James, died in 1999.
Publication of your online response is subject to the Medical Journal of Australia's editorial discretion. You will be notified by email within five working days should your response be accepted.