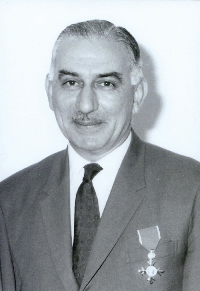 Michael Rozalla was born in Simla, India, on 25 June 1920 and was schooled in Simla and Naini Tal, both situated in the foothills of the Himalayas. He obtained his degree in medicine in Calcutta in 1945, and then served as a medical officer during World War II on the North-West Frontier of India and in Burma. After his discharge in 1948, he worked in a number of hospitals in England and then applied to the British Overseas Civil Service and took up duties in the colony of Sarawak in 1950.
In 1960, after a period in Brunei, Michael returned to Kuching, the capital of Sarawak, as Head of the Health Section of the Medical Department of Sarawak. In this capacity, he was instrumental in establishing a fully organised Health Division in the Sarawak Medical Services. Among his notable contributions to the service of public health was his drafting of the Malaria Eradication Scheme, the Tuberculosis Scheme, and the Public Health Ordinance of Sarawak. During his time in Sarawak, Michael was the recipient of several World Health Organization fellowships in the areas of cholera and malaria, and represented Sarawak at various international disease conferences.
In 1964, Michael was promoted to Deputy Director of Medical Services of Sarawak and, in the normal course of events, would have been recommended for promotion to Director in 1967, had he not elected to stand down in the interests of "Malaysianisation" (the Malaysian Government policy of replacing expatriate officers with local people where possible). He was made an Officer of the Order of the British Empire in 1969 for his service in Sarawak and Brunei.
Michael migrated to Australia in 1970 and, in due course, was proud to become an Australian citizen. He joined the New South Wales Department of Health and took up the position of Deputy Director of Health in Bathurst. When the Department of Health was restructured in 1974, he was appointed Deputy Regional Director of Health, which included the duties of Medical Officer of Health. During this time, he set up the Community Health Programme in the Central West Region.
Although Michael officially retired in 1980, he accepted a request from the Department to resume work as a Senior Medical Officer on a part-time basis. He worked on hospital disaster programs and completed a handbook for government medical officers working in NSW. He also prepared a booklet entitled Notes on triage and emergency treatment, which was incorporated into the NSW Disaster Medical Response Plan. He retired from part-time duties in 1990.
Michael died on 18 April 2010 from complications of chronic renal failure and cerebrovascular disease. He was a scholar and a gentleman, and is sorely missed by all who knew and cared for him. He is survived by his wife Thea, son David and daughter Teen.
Publication of your online response is subject to the Medical Journal of Australia's editorial discretion. You will be notified by email within five working days should your response be accepted.