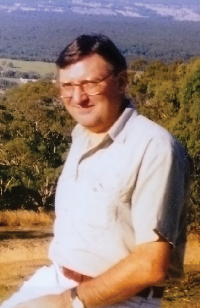 Herbert Gibson, well known in Victoria for his dedicated work on HIV/AIDS, bloodborne viruses, and drugs and alcohol, died suddenly on 5 June 2010 at the age of 64.
Born on 19 August 1945 in Bendigo, Victoria, Herbert studied medicine at Monash University, graduating in 1970. He did his residency at Bendigo Base Hospital and the Lakeside Psychiatric Hospital, Ballarat. In 1973, he helped found the Middle Park Clinic in Melbourne, where he was at the centre of medical care and studies to combat HIV/AIDS. His work included lecturing on sexually transmitted diseases and bloodborne viruses for Monash University, the Victorian Health Promotion Commission, the Royal Australian College of General Practitioners and the Alfred Hospital, where he was also Honorary Clinical Assistant at the Special Microbiology Unit (HIV/AIDS). In addition, he undertook honorary palliative care work for a number of Melbourne's medical facilities.
In 1994, Herbert moved back to his home town of Bendigo to care for his elderly mother. He became Senior Psychiatric Medical Officer with the Bendigo Health Care Group, and also worked for the Rural Health General Practice division of Monash University in Bendigo. He was an Outreach Rural Mental Health visiting consultant and Crisis Assessment Team clinician throughout the extensive Loddon/Campaspe region of Victoria.
The stress of long hours and distance travel eventually took its toll, and family-inherited bipolar disorder and diabetes began to wear him down. In 2007, he retired from practice and moved to Sydney, where his health greatly improved.
Apart from his dedication to medical care for the underprivileged and marginalised, Herbert's passions in life were reading European history and tracking down rare stamps for his collection, especially stamps of Imperial Russia and the early Soviet Union. He also enjoyed painting with watercolours and relaxing with his music collection of Wagner, Mozart and Shostakovich.
A suspected minor stroke/brain haemorrhage in 2010 saw him admitted to St Vincent's Hospital, Sydney. He was transferred to the nearby Sacred Heart Hospice, where he died within a few days. A month later, a celebration of Herbert's life was held in Melbourne, where some 70 former patients, staff, colleagues and friends gathered to remember a convivial, compassionate medic, a brilliant diagnostician and generous associate who enjoyed both solitude and good company.
Publication of your online response is subject to the Medical Journal of Australia's editorial discretion. You will be notified by email within five working days should your response be accepted.