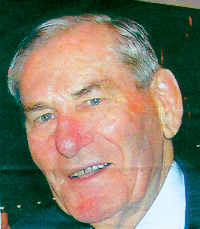 Des McGarry was born on 16 May 1931 in Concord, Sydney, at the peak of the Depression. He was educated by the Christian Brothers and Redemptorist Fathers, and initially trained to be a teaching brother and priest. In 1950, deciding he wasn't suited to the religious life, he set his sights on medicine, but first had to save enough money to finance his studies. He worked as a jackeroo, a labourer and a penciller for a bookmaker, then joined the Royal Australian Navy (RAN) as a medical undergraduate at the University of Sydney.
After graduation in 1960, Des spent a year at the Mater Hospital in Brisbane before returning to Sydney to complete 4 years as a Medical Officer for the RAN.
In 1965, Des and his wife Marie moved to Longreach in central Queensland. Des and I set up practice together. We had met as interns and conceived a plan to provide a first-class, city-type practice to a remote rural region — and in the mid 60s, there were few places in Queensland more remote than Longreach. It was exciting and satisfying delivering good medical care to the region. Des proved in every way to be the complete general practitioner. Skilful at procedures, astute in the diagnosis and management of illness, caring and understanding, his gentleness, his air of quiet authority and common sense engendered in his patients a trust and confidence. He was a genuine all-rounder who also brought a great sense of humour to his work. He was awarded a Fellowship of the Royal Australian College of General Practitioners in 1974.
In 1976, Des left to set up practice in Brisbane with Terry Bennett. Des tutored junior medical officers at the Royal Brisbane Hospital, and was a foundation member of the Medico-Morals Committee advising Catholic hospitals in Queensland. He was a long-time member of the Australian Medical Association.
Des was easily likeable and enjoyed company, a beer, and good cigars. He loved sport, especially boxing, surfing and rugby league. He was also a serious thinker, and enjoyed reading and deep conversations. His life experience fitted him well for the role of GP, but beneath that charm and worldliness lay a much deeper emotion — a deep spirituality and love of God.
He died on 7 September 2009 from metastatic cancer of the lung, leaving behind his wife Marie and their four children Patrick, Joanne, John and Paul.
Publication of your online response is subject to the Medical Journal of Australia's editorial discretion. You will be notified by email within five working days should your response be accepted.