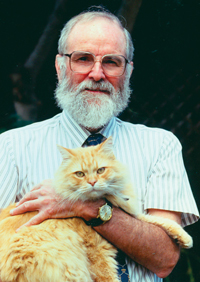 Charles Bridges-Webb was born on 15 October 1934 in Castlemaine, Victoria. A country doctor's son, he graduated from the University of Melbourne in 1957 and went on to become an international figure in general practice research.
Charles commenced his research, which he called "organised curiosity",1 while a rural general practitioner in Traralgon, in south-eastern Victoria. He was appointed foundation Professor of Community Medicine (later renamed General Practice) at the University of Sydney in 1975, and was Head of Department until his retirement in 1994.
Charles was a member of the Royal Australian College of General Practitioners (RACGP) Research Committee for 20 years and an RACGP representative on the National Health and Medical Research Council. He was an inaugural member of the Australian Association of Academic General Practice and its president from 1989 to 1991.
Charles was an international leader in the development of morbidity surveys, and his publication on morbidity in general practice2 is one of the most important research publications from Australian general practice, offering an understanding of health and disease in the community.
As member (1972–1998) and Chair (1991–1998) of the International Classification Committee of the World Organization of Family Doctors, Charles was a key developer of the International Classification of Primary Care, now the official World Health Organization classification system for primary care.
In retirement, Charles was Director of the RACGP research unit and Chair of the Australian General Practice Statistics and Classification Centre (home of the BEACH [Bettering the Evaluation and Care of Health] program). He also spent time enjoying his extensive garden, working as a lay preacher and writing his autobiography.3
In 2002, Charles was made an Officer of the Order of Australia for services to primary health care research and general practice.
A quiet, philosophical man, Charles saw the good in everyone and encouraged their strengths. He was notable for his generosity in sharing his talents and time, especially with young researchers, for his loving partnership with his wife Anne, and his ability to balance his extraordinary professional contributions with family life.
Charles died in Sydney on 16 June 2010 and is survived by Anne and his four children, Andrew, Ian, David and Kate.
1. Bridges-Webb C. Organised curiosity. Med J Aust 2001; 175: 613-616. <MJA full text>
2. Bridges-Webb C, Britt H, Miles DA, et al. Morbidity and treatment in general practice in Australia 1990–1991. Med J Aust 1992; 157 Suppl: S1-S56.
3. Bridges-Webb C. To travel hopefully: an autobiography. Melbourne: Sid Harta, 2005.
Publication of your online response is subject to the Medical Journal of Australia's editorial discretion. You will be notified by email within five working days should your response be accepted.