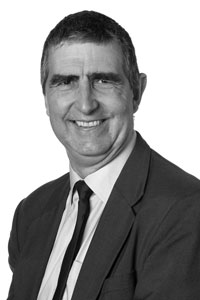 Konrad Jamrozik was born on 2 May 1955 in Leigh Creek, South Australia. He undertook basic medical training in Adelaide and Hobart, graduating from the University of Tasmania in 1977. After a year as an intern in Hobart, he won a Nuffield Dominion Trust scholarship to study at Oxford University from 1979 to 1982. There, he worked with Sir Richard Peto and the late Sir Richard Doll and produced a doctoral thesis examining strategies for promoting smoking cessation in general practice.
In 1983, Konrad lectured in Community Medicine at the University of Papua New Guinea in Port Moresby, where he was also a clinical assistant in the leprosy service. He took up a research fellowship in epidemiology at the University of Western Australia in mid 1984, and was promoted to Professor of Public Health in early 2000.
From December that year until September 2004, he held the Chair in Primary Care Epidemiology at Imperial College London. Later in 2004, he moved to Brisbane as Professor of Evidence-based Health Care and Head of the Division of Health Systems, Policy and Practice at the University of Queensland, then in 2007 became Head of the School of Population Health and Clinical Practice at the University of Adelaide. He also held short-term posts at the World Health Organization in Geneva, Harvard Medical School, the National Public Health Institute in Helsinki, Finland, and Jagiellonian University in Krakow, Poland.
Konrad had wide research interests including health promotion, the epidemiology and prevention of vascular disease, the design and conduct of randomised-controlled trials, and the translation of evidence into everyday practice. He had a natural talent for teaching and mentorship, helping to produce the next generation of health leaders. He also earned an international profile in the area of tobacco control as a researcher and advocate, and maintained a clinical commitment in medical oncology.
He was a prominent life member of the Australian Council on Smoking and Health and a Fellow of the Public Health Association of Australia. In 2009, he was awarded the Nigel Gray Award for his outstanding contribution to tobacco control.
Konrad was a dedicated cyclist and a keen rower who competed for Oxford and rowed for pleasure in rivers around Australia and the world. He was an unforgettable, extraordinary, dedicated man, and a loyal and caring friend and colleague with a commitment to excellence and justice. One colleague wrote, "It feels like public health in Australia has lost a limb".
Konrad was diagnosed with advanced sarcoma in 2009 and remarked, in light of his work on cancer, that this placed him within "a tradition of doctors who fall victim to their disease of special interest". He died in Adelaide on 24 March 2010 and is survived by his wife Lesley and children Euzebiusz, Harriet, Magnus and Aleksander, and his parents Adam and Ruth.
Publication of your online response is subject to the Medical Journal of Australia's editorial discretion. You will be notified by email within five working days should your response be accepted.