A 65-year-old woman underwent integrated fluorodeoxyglucose positron emission tomography and computed tomography (FDG-PET/CT [Philips GXL, Philips Medical Systems, Milpitas, Calif, USA]) to stage a newly diagnosed squamous cell carcinoma of the tongue (Figure, A). The scan revealed two additional, unexpected synchronous tumours, one in the left axilla (B) and the other in the sigmoid colon (C). The patient underwent subtotal glossectomy, after which further investigations confirmed a node-positive neuroendocrine carcinoma of the left breast and a dysplastic colonic tubulovillous adenoma. The detection of three synchronous tumours of different aetiology in the one patient on PET is rare. Previous cases of synchronous tumours detected on PET involved tumours of the head and neck, upper gastrointestinal tract and lungs, thought to be related to shared risk factors, such as smoking.1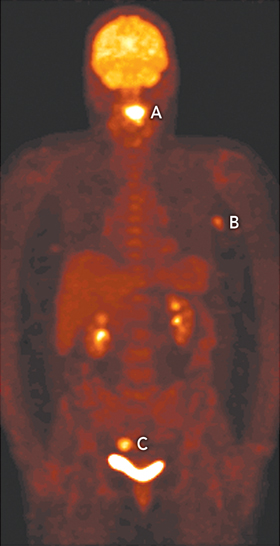 1. Choi JY, Lee KS, Kwon OJ, et al. Improved detection of second primary cancer using integrated [18F] fluorodeoxyglucose positron emission tomography and computed tomography for initial tumour staging. J Clin Oncol 2005; 23: 7654-7659.
Publication of your online response is subject to the Medical Journal of Australia's editorial discretion. You will be notified by email within five working days should your response be accepted.