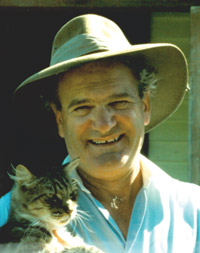 Dick Smidlin was born in Sydney on 15 March 1932. He was educated at "Shore" (Sydney Church of England Grammar School) and the University of Sydney, graduating in medicine in 1956. His father was a dermatologist and his mother a gynaecologist. His grandfather Frank Smidlin, an electrician at Sydney Hospital, took the first x-ray in Sydney in 1896.
Dick was a Resident Medical Officer at Sydney Hospital, the Royal Alexandra Hospital for Children and the Royal Hospital for Women. He went to England in 1960, where he worked as a Surgical Registrar at West Hertfordshire Hospital and at St John's Hospital and West Middlesex Hospital in London. Returning to Australia after 5 years, he did further training in anaesthesia at Sydney Hospital and became a specialist anaesthetist. He was a Visiting Medical Officer at the Rachel Forster Hospital for many years.
In 1966, Dick spent 3 months working as a Flying Doctor with the Bush Church Aid Society in Ceduna, South Australia, and in 2008 he wrote a book called Flying doctor praying about his experiences with the service. He also visited Antarctica as a ship's surgeon in the 1990s.
Dick had many interests, including farming, travel, military history and sailing. He owned a 10 000 acre cattle property called "Wicketty Wees" at Putty, north-west of Sydney. As a foundation member of the Second Anzac Medical Society, he made many overseas trips to places such as Gallipoli and Europe to pursue his interest in military medicine and military history.
From his youngest years, Dick shared his father's love of sailing. He was a member of the Middle Harbour Yacht Club for more than 60 years, and sailed with the Sydney Amateur Sailing Club and the Cruising Yacht Club. He had numerous boats — the last one, named "Trim" after Matthew Flinders' cat, having a black cat outlined on the mainsail. He was an excellent skipper and won many races.
Dick visited France most years. He had a barge called "Wilma" moored in Paris, and would spend up to 2 months each year exploring the canals of France and entertaining friends on board.
Dick died on 6 October 2008 of lung cancer. He is survived by his sister Anne and wife Jeanette, from whom he was divorced in the 1960s. He was buried at Waverley Cemetery in a position that has a wonderful view of the ocean.
Publication of your online response is subject to the Medical Journal of Australia's editorial discretion. You will be notified by email within five working days should your response be accepted.