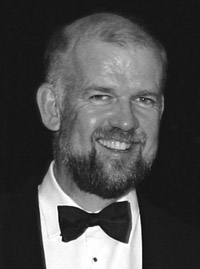 Phil Douglas will be particularly remembered for his outstanding role in expanding the development of the Post Fellowship Training Programme of the Colorectal Surgical Society of Australia and New Zealand (CSSANZ) and the Royal Australasian College of Surgeons, nurturing it as a legacy to future fellows-in-training. The Society has recently established the annual Philip Douglas Prize in his honour.
Phil was born on 30 November 1955 in Sydney. He attended Sydney Church of England Grammar School ("Shore"), where he was a prefect, a cadet under-officer, and member of the First XV rugby and Second XI cricket teams. Sport remained an important part of Phil's life.
After completing a medical degree at the University of New South Wales, Phil spent an additional year working towards a Bachelor of Medical Science degree. The project, for which he was awarded first class honours, involved research into the sensory pathways of the brain and was published in the prestigious Journal of Physiology.
Phil was one of the first two fellows admitted under the auspices of the (then) Australian Colorectal Surgical (specialist) Training Programme. In 1990, after 2 years' training at the Prince of Wales Hospital, Randwick, and the Adventist Hospital, Wahroonga, he became a consultant at the Prince of Wales Hospital.
Phil was actively involved in many areas other than colorectal surgery. He was a councillor of the NSW branch of the Australian Medical Association (AMA) (1987–1993) and a director and board member of the AMA Health Fund (later The Doctors' Health Fund) for 19 years. He also served on committees of the Gastroenterological Society of Australia and the Sydney Colorectal Surgical Society. He was chairman of the Medical Staff Council of the Prince of Wales hospitals (1999–2008) and ultimately chairman of the Medical Staff Executive Council of all hospitals of the South Eastern Sydney Area Health Service.
In November 2008, Phil completed a most distinguished 2 years as President of the CSSANZ. A year earlier, metastases from a completely asymptomatic pharyngeal squamous cell carcinoma had been identified, resulting in a program of irradiation and chemotherapy, during which Phil stoically maintained an active clinical and surgical practice until his retirement just 2 weeks before his death, on 3 January 2009.
Phil was determined, strong, rational and, above all, fair. He enjoyed many lifelong friendships and possessed a prodigious wine knowledge and tasting ability, which he lost after his radiotherapy — but, to his great joy, later regained.
He is survived by his wife Judy and children Katherine and Cameron. His strong Christian faith was a dominant focus throughout his life. Phil is a direct descendent of Richard Rouse of Rouse Hill.
Publication of your online response is subject to the Medical Journal of Australia's editorial discretion. You will be notified by email within five working days should your response be accepted.