At the time of his death in Georgetown, in Queensland's Channel Country, Cyril Swaine had enjoyed a successful medical career of over 50 years, spent within and outside Australia, remaining active and moving with the times in a profession that was undergoing unimagined expansion and specialisation.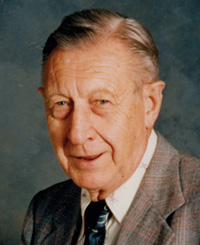 Cyril was born on 1 November 1919 in the Adelaide Hills, the eldest of six children, into times that were frequently hard. He was mentored at an early age by a local general practitioner, Carl Jungfer, a later icon for Australian general practice. On graduating in medicine at the University of Adelaide, Cyril entered the wartime Royal Australian Air Force, serving in Malaya and rising to the rank of Squadron Leader. In 1947, he joined the Repatriation Department in Adelaide, gaining expertise in the management and treatment of tuberculosis.
After 9 years in the Repatriation Department, Cyril spent a year working as a Senior Medical Officer at the then-active Woomera Rocket Range, followed by 14 years in general practice at Woodville in Adelaide.
The next 13 years were spent in Indonesia and Papua New Guinea working for a mining company, where his practice included occupational and industrial medicine and was enlivened by obstetrics and emergency surgery. In 1983, he returned with his family to Cairns in Queensland with plans to semi-retire. But for a person of his great intellect and altruistic spirit, this proved difficult, and his practice actually expanded to include younger partners and a second site. He became active in Rotary and was elected to the executive of the Cairns Division of General Practice.
In 1999, Cyril sustained two accidents that finally forced him to retire. Cyril relocated to Georgetown, where his wife Pam took up a position as Director of Nursing at the hospital. Cyril died there on 14 August 2007 from ischaemic heart disease. His requiem mass in Georgetown was notable for the attendance of many colleagues who had been flown into the relatively remote town courtesy of the Royal Flying Doctor Service. It was suitable recognition for a man who was described during his eulogy as displaying tremendous integrity, loyalty and honesty, and who epitomised the Christian ethic in his professional and personal life.
He is survived by his wife Pam and children Marie, Stephanie, Brook and Justin. A son David predeceased him.
Publication of your online response is subject to the Medical Journal of Australia's editorial discretion. You will be notified by email within five working days should your response be accepted.