The medical community lost one of its most passionate, innovative and hardworking members with the recent death of Ralph Reader. He changed the way Australians thought about cardiovascular disease, raising awareness of risk factors and promoting policies to counter the disease. He also championed cardiovascular research, being one of the key drivers of National Health and Medical Research Council (NHMRC) policies and decisions during the 1960s and 1970s.
Ralph was born in Brisbane in 1918, but grew up in Sydney, where he attended Fort Street Boys' High School and the University of Sydney.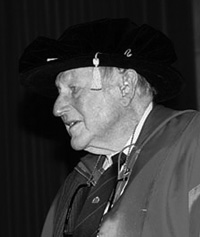 After graduating in medicine in 1940, he became a Resident Medical Officer at Royal Prince Alfred Hospital (RPAH) before joining the navy and serving as a surgeon until the end of World War II. In 1941, he married Hazel Scanlon, to whom he remained married until her death in 1994.
After the War, Ralph conducted research into renal disease at the University of Sydney. In 1948, the grant of a Nuffield Medical Fellowship took him to Oxford, UK, where he completed a PhD.
On his return to Australia, he set up a private practice, worked as an Honorary Medical Officer at RPAH and lectured at the University of Sydney. His research led to kidney transplants at RPAH, where he established the first nephrology unit.
In 1961, Ralph was appointed inaugural Medical Director of the National Heart Foundation (NHF), and was its Director and Chief Executive until 1980. It was during this period that he played a key role in the establishment of the triple-0 emergency telephone line.
Over two decades, Ralph became the face of the NHF, devoting his time and energy to public education and professional practice, as well as developing the Foundation's research program.
He was also very active in the NHMRC. Between 1966 and 1975, he was a member of several of its committees and subcommittees, including the Medical Research Advisory Committee, the Standing Postgraduate Scholarship Committee and the Medical Statistics (Standing) Committee.
In 1968, Ralph was the first to report a plateau then a fall in the number of deaths related to heart attacks, heart failure and stroke. Australia was the first country to reverse the upward trend. (At its peak, cardiovascular disease was the cause of two in three Australian deaths.) He also helped to develop policies for reducing cholesterol levels and oversaw the establishment of coronary care units in hospitals across Australia. He discovered the effectiveness of prescribing antihypertensive drugs for patients with mild hypertension and conducted the groundbreaking Australian National Blood Pressure Study.
Ralph was made a Companion of the Order of St Michael and St George in 1976 and was awarded an honorary doctorate by the University of Sydney in 2006.
Ralph died in Canberra on 13 January 2008. He is survived by his children Brian, Carolyn and Jeremy.
Publication of your online response is subject to the Medical Journal of Australia's editorial discretion. You will be notified by email within five working days should your response be accepted.