Same time, another place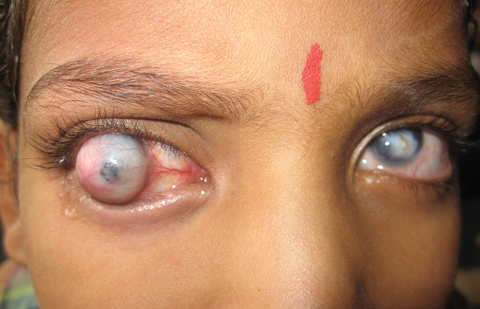 An 8-year-old boy with marasmus presented with poor vision. His right eye had a staphyloma and his left eye a leukoma. He was totally blind in the right eye. His visual acuity in the left eye was only perception of light. Corneal transplantation for his left eye has been planned. The right eye will be enucleated and an ocular prosthesis implanted.
Five years earlier, the child was admitted for treatment of kwashiorkor with associated bilateral keratomalacia due to vitamin A deficiency. These ocular sequelae of vitamin A deficiency could have been prevented by its timely supplementation.
Commentary
Although it is no longer common in Australian Aboriginal communities, malnutrition still occurs in isolated areas. In Australia, keratomalacia of the degree shown here would be exceptional.1
In Africa and parts of south Asia, however, such causes of blindness are not uncommon, particularly among refugees from war and civil strife, where community structure is destroyed, immunisation rates (especially for measles) are low, and malnutrition is common. These circumstances are unfortunately still occurring, exacerbated by climate change, protracted drought and disruption of the normal seasonal cycles of agricultural production.
Vitamin A deficiency is common even without kwashiorkor or marasmus, and keratomalacia can be precipitated by an outbreak of measles or acute diarrhoeal disease if vitamin A levels are low. Although blindness in children is far less common than in adults, blind children tend to be blind for longer and have less access to education, and are then less able to contribute to the community and the economy.
Such a serious disorder can be avoided entirely by using one of the simplest and most cost-effective public health interventions: vitamin A supplementation.
Vision 2020: the Right to Sight (the global initiative of the World Health Organization and the International Agency for the Prevention of Blindness to eliminate avoidable blindness and vision impairment by 2020) prioritises such devastating but needless causes of blindness. This has, through surveillance, advocacy and direct action, led to such sequelae becoming very rare in politically stable countries.
1. Gracey MS. Nutrition-related disorders in Indigenous Australians: how things have changed. Med J Aust 2007; 186: 15-17. <MJA full text>
Publication of your online response is subject to the Medical Journal of Australia's editorial discretion. You will be notified by email within five working days should your response be accepted.