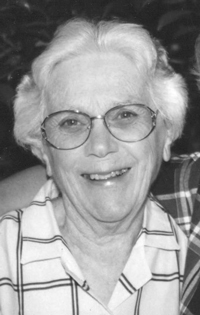 Babette Stephens was the adored daughter of Clyde and Norma Yeomans. Born in Adelaide on 9 October 1922, Babette and her family moved to New Zealand in 1926 and lived there until 1935. She returned to Sydney to complete her schooling at Ascham School and commenced her undergraduate medical course in 1941 at the University of Sydney. Graduating in 1946 with first class honours, Babette won the Dagmar Berne Prize for proficiency among women graduates. She was also awarded the Norton Manning Memorial Prize for psychiatry.
Babette married Dick Stephens in 1945 and began her residency at the Royal Prince Alfred Hospital in the following year. In 1948, the Stephens family moved to Newcastle for 2 years before returning to Sydney, where Babette worked with Dick's father in general practice in Vaucluse. In 1951, the family moved to Northbridge, where Babette and Dick practised until her retirement in 1987.
In addition to her role as a general practitioner, Babette frequently assisted patients by helping them with meals and laundry within their own homes. She provided a shining example to fellow GPs and specialist colleagues of exceptional dedication to patient care. Her own practice provided a 24-hour service with assistance from her husband Dick, who also practised as an anaesthetist.
Babette's contribution to society included a remarkably dedicated involvement with the Women's Medical Society of New South Wales from the early 1960s, including Presidency of the Society in 1967. She was Medical Convenor of the National Council for Women and a member of the Ascham School Company, as well as a member of the Council of the Medical Benevolent Association from 1982. She remained a Member of this Council until her recent death. Her extraordinary contribution is recalled by fellow councillors, David Pope and Mary Doherty, who confirmed Babette's regular attendance at every meeting and her generous contribution to annual general meetings — her asparagus rolls were particularly appreciated! Until the time of her death, she remained an invaluable member of this charitable organisation, which contributes so significantly to assisting doctors and their families.
Babette died on 4 March 2007 of metastatic cancer. She is survived by her husband and their children Allan, Rosemary and Tony.
Publication of your online response is subject to the Medical Journal of Australia's editorial discretion. You will be notified by email within five working days should your response be accepted.