A 64-year-old man was referred for assessment of a symmetric violaceous rash of the dorsal aspect of the fingers (Figure, A), trunk, olecranon processes and malleoli. An oedematous, blue-purple discolouration of the eyelids was also apparent. The patient complained of severe weakness of the proximal muscles and dysphagia. T2-weighted magnetic resonance imaging showed muscular inflammation and a pulmonary mass (Figure, B) that was histologically identified as squamous cell carcinoma and staged as T3 N0 M0.
The dermatomyositis, confirmed by elevation of serum muscle enzymes and electromyography, improved clinically with oral prednisone plus hydroxychloroquine, and did not recur after surgical excision of the tumour.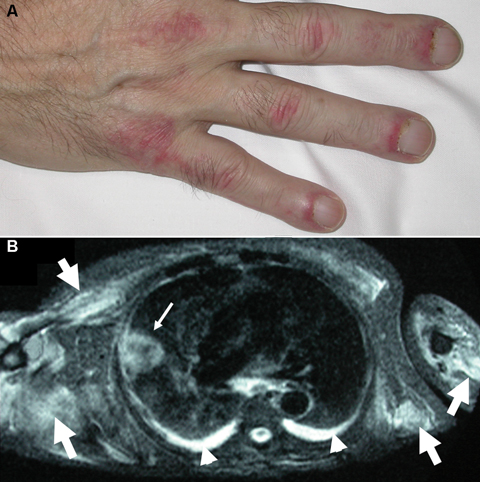 A: Symmetrical violaceous rash with papules on the dorsal aspect of the interphalangeal and metacarpophalangeal joints. Cuticle telangiectasias can also be seen.
B: T2-weighted magnetic resonance image showing marked swelling and diffuse dyshomogeneity of skeletal muscles (thick arrows), a 4 cm peripheral mass in the upper lobe of the right lung (thin arrow) and bilateral pleural effusion (arrowheads).
Publication of your online response is subject to the Medical Journal of Australia's editorial discretion. You will be notified by email within five working days should your response be accepted.