Cyril Evans was born on 27 April 1921 in Sydney and attended Fort Street Boys' High School. He graduated in medicine with credit from the University of Sydney in 1943, despite having had to work during the course to support his mother and sister and pay his university fees. He obtained a Diploma in Tropical Medicine in 1946.
After doing his residency at Royal Prince Alfred Hospital, Sydney, Cyril joined the Australian Army in 1945. When the War ended, he worked for several years as a missionary doctor in the Solomon Islands. Between 1950 and 1954, he completed specialty training in internal medicine in the United Kingdom, working first at Hammersmith Hospital, London, and later in Cornwall and Wales. He became a Member of the Royal College of Physicians (London) in 1953.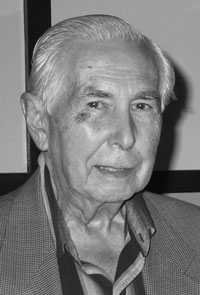 Cyril spent the next 21 years specialising in chest diseases, particularly tuberculosis, first in North Carolina, USA (1954–1955), then as Deputy Director of Tuberculosis Services in Queensland (1956–1968). During this time, he was seconded to the World Health Organization for 2 years (1964–1965) to work at the Tuberculosis Chemotherapy Centre in Madras, India. From 1969 to 1973, he served as Director of Tuberculosis Services for South Australia and then as Commonwealth Director of Tuberculosis Services in Canberra (1974–1975).
In 1975, Cyril was appointed Deputy Director-General of the Commonwealth Department of Health. Over the next few years, he became a Fellow of the Royal Australasian College of Physicians (1975), the Royal College of Physicians (London) (1978) and the Royal Australian College of Medical Administrators (1979). He was highly regarded by his colleagues — respected not only for his expertise in public health, but also for his patience and consideration towards others. He was made an Officer of the Order of the British Empire in 1978.
After retiring from government service in 1982, Cyril spent a year as Adviser in Chronic Diseases at the Western Pacific Regional Office of the WHO in Manila, The Philippines, and then over 10 years as Medical Director of the Australian Kidney Foundation (1986–1997).
Cyril was passionate about the welfare of his fellow human beings. He decided against continuing to work in the USA in 1956 because of the racism he saw in the hospital and the community. From the 1960s, he volunteered his time to various programs to help people stop smoking and, more recently, was a keen supporter of Canberra ASH (Action on Smoking and Health) Inc. He was also a supporter of the Medical Association for Prevention of War and a long-time member of the Board of the Richmond Fellowship, a charity providing mental health care and accommodation to adolescents with behavioural problems. Cyril and his wife, Beryl, also provided a home-away-from-home for scores of people, particularly international students in Canberra, for more than 30 years.
Cyril died on 1 February 2007 after a period of failing health associated with Parkinson's disease and Alzheimer's disease. He is survived by Beryl and children Bronwyn, David, Susan and Annette.
Publication of your online response is subject to the Medical Journal of Australia's editorial discretion. You will be notified by email within five working days should your response be accepted.