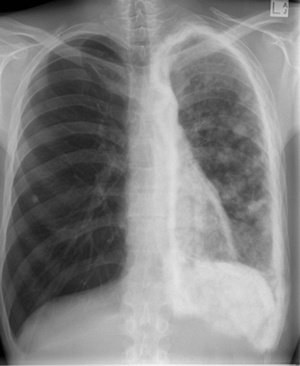 Radiograph showing diffuse dense pleural thickening encasing the left hemithorax, multiple metastatic nodules in the left lung, and a solitary deposit in the right mid zone.
A 21-year-old man with a high-grade osteoblastic sarcoma of the tibia had a tumour resection and adjuvant chemotherapy. Eight months later, he became dyspnoeic and a radiograph showed a large left-sided pleural effusion and a nodule in the right mid zone.
Calcified pleural metastases were confirmed on biopsy, and talc pleurodesis was performed. High-dose methotrexate was commenced, but 2 months later a chest radiograph showed marked calcification of the pleura and pulmonary metastases on the left side (Figure). The right pulmonary nodule had increased in size and the patient's serum alkaline phosphatase level had risen to 4459 U/L (reference range, 30–130 U/L). A trial of ifosfamide transiently reduced the alkaline phosphatase level. The patient died 4 months later.
Publication of your online response is subject to the Medical Journal of Australia's editorial discretion. You will be notified by email within five working days should your response be accepted.