The sudden and untimely death of John Ruhno has deprived many patients of his well regarded expertise in the fields of clinical immunology and allergy. For both patients and colleagues, John's most significant contribution has been to the management of anaphylaxis in Australia.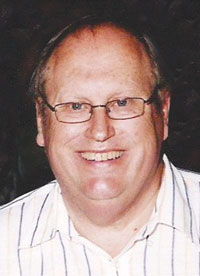 John was born on 23 July 1952 in Toowoomba, Queensland, and educated at The Southport School. He graduated in medicine from the University of Queensland in 1976. After specialising in paediatrics at Royal Brisbane Hospital, he trained in clinical immunology and allergy at Royal Newcastle Hospital. In 1985, as the Royal Australian College of Physicians' Bencard Travelling Fellow, he took up the position of Fellow in Immunology and Molecular Virology at McMaster University, Ontario, Canada, documenting basic and clinical research findings on nasal polyposis.
Returning to Australia in 1989, John worked in Sydney as a Visiting Medical Officer at The Children's Hospital, Westmead, and in the Department of Allergy at Royal North Shore Hospital. He also went into private practice in Chatswood and provided a much needed outreach service to the town of Nowra in southern New South Wales.
John played a large role in the Australasian Society of Clinical Immunology and Allergy (ASCIA) at a local, national and international level. He was NSW representative from 1995 to 1996 and ASCIA representative to the World Allergy Organization House of Delegates from 1998 to 2005. In addition, John brought valuable expertise to a number of committees including ASCIA's Computer Committee, Education Committee, and Anaphylaxis Working Party.
John was an early and enduring advocate for the ever burgeoning number of patients and their families suffering from anaphylaxis. He was co-founder of the Families of Anaphylactic Children Training and Support Group (FACTS) and Medical Advisor from its inception, then Chair of the Medical Advisory Board of Anaphylaxis Australia, which replaced FACTS.
John's interest in research continued, and in the last 10 years of his life he was involved in collaborative work on several projects investigating the mechanism of egg allergy as a model in allergic disease development.
John had a wide range of interests. His knowledge of wine and fine food was prodigious, and his temperature-controlled wine cellar, complete with computerised records of its contents, was the envy of many. He was also a keen sailor and fisherman.
Although suffering from cardiomyopathy in the 6 months before his death, John had returned to full-time work. He died on 15 December 2006, at the age of 55. He is survived by his wife Alexandra and daughter Christina.
Publication of your online response is subject to the Medical Journal of Australia's editorial discretion. You will be notified by email within five working days should your response be accepted.