Although clinical trials of the antipsychotic amisulpride revealed no cardiac adverse effects, four patients with severe cardiac toxicity after overdose were reported to Australian poisons information centres in 2004–2005. All four had QT prolongation over 500 ms, two had rate-dependent bundle branch block, two developed torsades de pointes, and one died after cardiac arrest. Pending further studies, we recommend electrocardiogram assessment until at least 16 h after amisulpride overdose and, if QT interval is prolonged, cardiac monitoring until the patient is clinically well and conduction intervals are normal.
Discussion
Amisulpride is an antipsychotic that has been available on the Pharmaceutical Benefits Scheme in Australia since 2003. A benzamide derivative, it is well tolerated, with relatively few side effects and minimal behavioural toxicity in doses with antipsychotic effect.2 Amisulpride overdoses were first reported to Australian poisons information centres in early 2004, and about 60 telephone calls about amisulpride overdose were made from hospitals to the New South Wales and Western Australian Poisons Information Centres between July 2004 and June 2005, including the four cases reported here.
A review of clinical trials of amisulpride reported that it had no effect on the ECG in therapeutic doses and did not produce arrhythmias.3 There are no published data on animal toxicity. It was therefore surprising that such severe effects were seen in overdose. There were a few published reports of overdose in the literature before its introduction in Australia,4,5 and a reference to QT prolongation and torsades de pointes in the manufacturer's product information, but little indication that overdose could have effects as severe as those reported here, including the first cases of torsades de pointes.
During the past decade, there have been sporadic reports of amisulpride poisoning, including two deaths.4-9 Significant QT prolongation was reported in a recent series of eight cases with limited clinical details9 and in another two cases, where it was suggested to be related to hypocalcaemia.7 A patient who suffered multiple cardiac arrests has also been reported. Although torsades de pointes was suspected, it was not confirmed on ECG.6
These cases demonstrate that amisulpride overdose may be associated with clinically significant QT prolongation. The absolute QT interval was over 500ms in all four of our cases and close to 600ms in three. Amisulpride overdose was associated with ECG-confirmed torsades de pointes in two cases and a cardiac arrest resulting in death in another. Unfortunately, no ECG was available to determine if torsades de pointes had occurred in that patient. The magnitude of the effect on the QT interval and the number of cases of torsades de pointes from about 60 cases of overdose reported to the Poisons Information Centres suggests that amisulpride overdose is associated with significant cardiac toxicity. Amisulpride also caused a ratedependent bundle branch block in two cases. Although this coincided with a decreased level of consciousness, it was unlikely to have caused it. Drowsiness occurred in three of the four patients and profound sedation in two, suggesting that amisulpride also causes central nervous system depression.
Amisulpride was detected in high concentrations in three of our patients — three to four orders of magnitude above that reported in therapeutic studies.2 In these studies, the peak concentration after a dose of 50mg of amisulpride was 55.7 µg/L (SD, 3.7).
Citalopram is another drug that appeared to cause minor or no cardiac effects in clinical trials of therapeutic doses,10 but in overdose has been associated with moderate QT prolongation,11,12 rate-dependent bundle branch block and, rarely, torsades de pointes.13,14 A pharmacokinetic and pharmacodynamic model of citalopram intoxication clearly demonstrated a dose-dependent relationship between drug concentration and QT interval.12 Fortunately, citalopram-associated torsades de pointes appears very rare, with only two published reports.
This case series underlies the importance of overdose surveillance by poisons information centres after the introduction of new drugs, or the introduction of new formulations. Clinicians should be aware that amisulpride overdose can cause severe cardiac toxicity, including QT prolongation, bundle branch block and torsades de pointes. Until the risk assessment can be further refined, we recommend assessing the ECG until at least 16 hours after ingestion of an amisulpride overdose. If there is QT prolongation, we recommend cardiac monitoring in a critical care area until the patient is clinically well, and conduction intervals are normal.
1 Electrocardiogram changes in Patient 1
Electrocardiogram 7 hours after ingestion of amisulpride showed sinus rhythm with a prolonged QT interval of 560 ms.
2 Electrocardiogram changes in Patient 2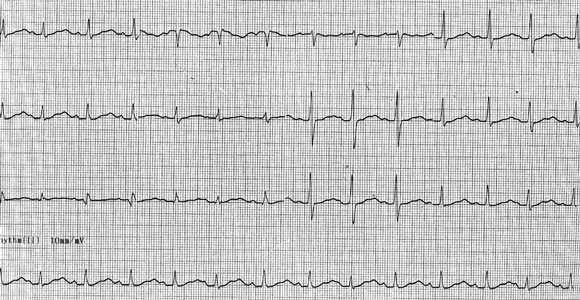 A: Eighteen hours after ingestion, the electrocardiogram (ECG) showed prolonged QT interval of 560 ms.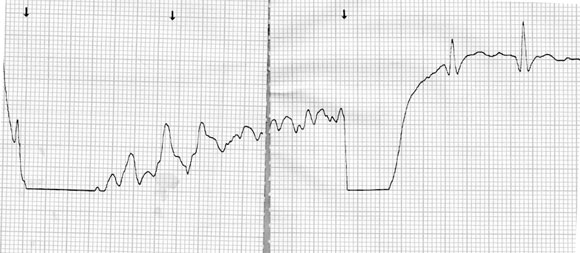 B: About 29 hours after ingestion, the ECG showed segment of torsades de pointes, before direct current cardioversion and recovery of sinus rhythm.
C: Five days after the overdose, ECG showed shortening of QT to 360 ms.
3 Electrocardiogram changes and amisulpride levels in Patient 4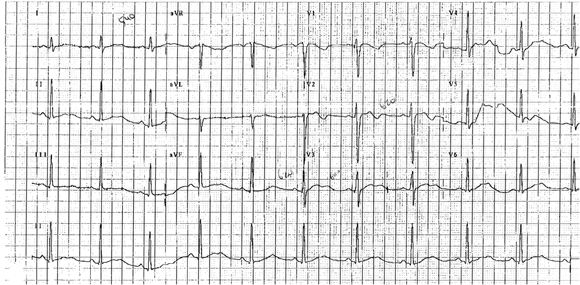 A: Prolonged QT interval on admission (2.3 hours after ingestion).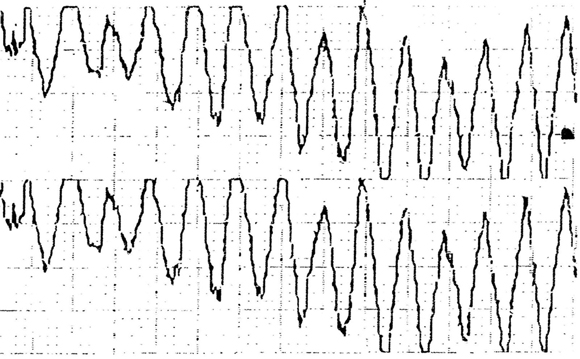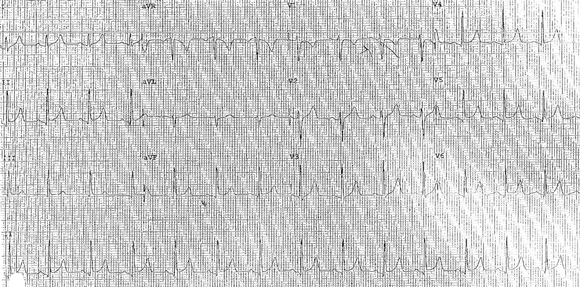 D: Plasma amisulpride concentration (logarithmic scale) and absolute QT interval over the first 60 hours after ingestion.
Publication of your online response is subject to the Medical Journal of Australia's editorial discretion. You will be notified by email within five working days should your response be accepted.