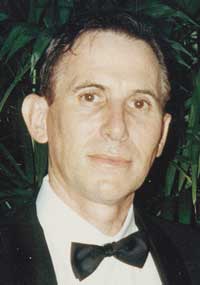 Edwin ("Eddie") Young was born on 25 October 1938 in Brisbane. He attended Brisbane Boys' College as a boarder, his parents being stationed in Colombo, where his father was Director of Ceylon's Rubber Research Station. At school, Edwin proved to be not only an outstanding scholar, but also a highly talented gymnast, a sport he pursued throughout his life, leading Queensland's gymnastics team for 2 years before becoming its coach.
Eddie graduated in medicine from the University of Queensland in 1965. In 1968, he took up a position as Psychiatrist (later, Senior Psychiatrist) at Wolston Park Hospital, Brisbane, one of Australia's oldest psychiatric hospitals (founded in 1865 as the Woogaroo Lunatic Asylum). He completed a Diploma in Psychological Medicine in 1969 and obtained his Fellowship of the Royal Australian and New Zealand College of Psychiatrists (RANZCP) in 1975. The family lived in one of Queensland's most significant residences, Ellerton House, which was built in 1916 by the Queensland Government. It was here that Eddie developed his love of teaching, soon becoming a member of what was then the Faculty of Medicine, University of Queensland, lecturing in neuropsychiatry in the preclinical years and giving lectures to medical students at Wolston Park and Ipswich hospitals. He also regularly organised pre-fellowship courses for psychiatrists-in-training, which are now being provided by Queensland Health and called the "Eddie Young Annual Psychiatric Registrars weekend".
In 1981, Eddie entered private practice, although he retained a connection with Wolston Park as Visiting Senior Specialist until his death. He was instrumental in establishing Queensland's first methadone clinic, which included an injection program for opiate addicts — the first of its kind in Australia.
Eddie was a true neuropsychopharmacologist at a time when Brisbane was still overpopulated with Freudian or Kleinian analysts. He took a scientific interest in the condition that became known as attention deficit hyperactivity disorder, publishing as lead author a major article on the condition.1 He also established the first Computer Bulletin Board for the RANZCP.
In late 1999, Eddie was first diagnosed with multiple myeloma. He went into remission after receiving autologous stem cell transplants, but by the beginning of 2005, despite treatment with thalidomide, his condition had declined rapidly. He bore his suffering stoically, continuing to see patients and lecturing in the medical school. His last words to his secretary were, "I'll be in the office tomorrow to go through the mail". Alas, tomorrow never came.
Eddie died on 12 October 2005 and will be deeply missed by colleagues and friends. He is survived by his wife Barbara and children Marcus, Marina and Victoria.
1. Young ES, Perros P, Price GW, Sadler T. Acute challenge ERP as a prognostic of stimulant therapy outcome: J Biol Psychiatry 1995; 37: 25-33.
Publication of your online response is subject to the Medical Journal of Australia's editorial discretion. You will be notified by email within five working days should your response be accepted.