Helping patients sort out the complexities of life, even if in small steps, can be a source of great satisfaction
Aboriginal community controlled health services (ACCHSs) across Australia are supported by predominantly non-Indigenous doctors. As of 2005, there were between eight and ten Indigenous doctors working in ACCHSs.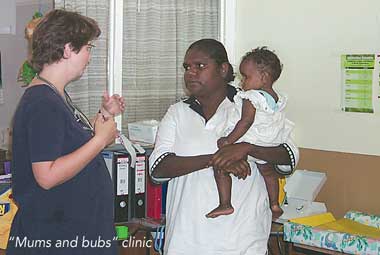 For many non-Indigenous doctors, working in an Aboriginal health service has been a choice to do something different and to try to make a difference. One of us (K S P) moved to Townsville from Sydney. Working for the Townsville Aboriginal and Islanders Health Services (TAIHS) provided an opportunity to combine general practice with interests in maternal and child health and clinical research.
For Indigenous doctors, the reasons for working in an ACCHS are varied, but generally centre on wanting to work closely with their community. The other author (M W) is one of two Aboriginal GPs working at WuChopperen Health Service. Communities and family members, but also the medical community and government, expect Indigenous doctors to work directly in primary health care. In taking on this role, Indigenous doctors need to be able to respond to a variety of community, leadership and role-model pressures, but their value to the local community is measured not only by their natural cultural communication skills, but by the capacity development among Indigenous people that they represent.
Conclusion
While every GP will have a different experience within an ACCHS, a few will truly become part of the community. Many doctors will develop close friendships with both staff and families that can be especially rewarding. Sharing the highs and lows of the Indigenous community, especially with respect to sport and music and their role in mainstream Australian culture, strengthens the bonds some doctors have with their roles in ACCHSs.
Publication of your online response is subject to the Medical Journal of Australia's editorial discretion. You will be notified by email within five working days should your response be accepted.