Alfred Grauaug, known to everyone as "Fred" or "Freddy", will be forever remembered as the pioneer of neonatal medicine in Western Australia.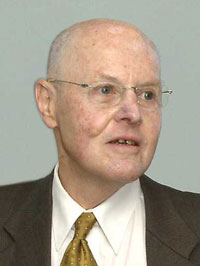 Fred was born in Vienna, Austria, on 11 August 1935, but grew up in Sydney, where he attended Sydney Grammar School and the University of Sydney, graduating in 1960.
His postgraduate training included several years at the Royal Alexandra Hospital for Children, Sydney, and the Princess Margaret Hospital, Perth. When he arrived at King Edward Memorial Hospital (KEMH), Perth, in 1968, neonatology was not yet a subspecialty of paediatrics, and babies were cared for in "special nurseries". Under Fred's leadership, there was rapid progress to a fully equipped neonatal intensive care unit, which today has become one of the largest and best in the world.
Fred was the first Director of the Neonatal Unit at KEMH. He held this position from 1968 to 1997, after which he continued as a neonatologist at KEMH and the nearby St John of God Hospital. His appointment by the University of Western Australia as a Senior Lecturer and subsequently Associate Professor in Neonatology was the first academic appointment in that specialty in the state.
He was the first to use ventilators for respiratory problems in premature babies in WA. He established the first neonatal transport system, the first retinopathy of prematurity screening program and the first neonatal intensive care nursing course in Australia. He was a founding member of the Asia and Oceania Perinatal Society, and held positions on state, college and hospital committees.
Before he knew of his illness (metastatic adenocarcinoma of the lung), Fred announced that his retirement from KEMH would be on 30 June 2005, two months before his 70th birthday. He would be one of the few intensivists to have continued working full-time in this demanding role at this age.
Fred was known for his dedication, vision, energy, drive, determination, resilience and success. Fred valued multidisciplinary and multicultural clinical teams. Although he had a strong commitment to work, he managed to preserve a balance between work and the other aspects of his life.
He was passionately involved in the Medical Association for the Prevention of War, of which he was State President for a time. With his wife Heather, he was an active supporter of the arts.
Fred died on 13 July 2005. He will be sadly missed by the medical, nursing and other staff of KEMH and St John of God Hospital, by paediatric colleagues around Australia, and by his countless patients and their families. He is survived by Heather and their children David, Richard, Elizabeth, William, Emma, Michael, Alexandra and Sally. Fred's first wife, Anne, died in 1978.
Publication of your online response is subject to the Medical Journal of Australia's editorial discretion. You will be notified by email within five working days should your response be accepted.