A 44-year-old woman presented with a 3-day history of worsening right upper quadrant pain associated with nausea, anorexia and fever. She had localised tenderness and guarding in the epigastrium. Initial ultrasound imaging showed a distended gallbladder containing calculi, without wall thickening. A computed tomography scan (performed because of increasing pain) showed a whorled structure in the anterior abdomen (Box 1). At laparotomy this was seen to be torsion of a segment of the greater omentum. Histology of the resected specimen showed congestion of the vessels, haemorrhagic infarction and focal fat necrosis (Box 2). She made an uncomplicated and rapid recovery.
Primary omental torsion is a rare cause of acute abdomen. It may affect children and adults, and is commonly misdiagnosed preoperatively as appendicitis. Some cases have presented as acute cholecystitis.1,2 Kimber et al identified 13 cases of omental torsion or infarction in about 8000 cases of suspected appendicitis over a 20-year period.3
Large meals, sudden postural change, and abdominal trauma may be precipitating factors in primary torsion,4 while adhesions, hernia, tumour or focus of inflammation3 occur with secondary torsion. Resection is the preferred treatment,3,4 although some clinicians suggest conservative management2 when the diagnosis is apparent on computed tomography. Laparoscopic resection has also been advocated.5
1 Computed tomography scan of abdomen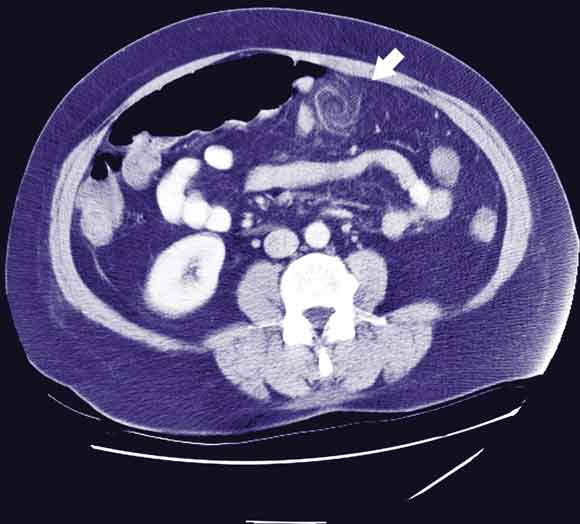 A whorled structure (arrow) is seen in the anterior abdomen adjacent to the transverse colon.
Publication of your online response is subject to the Medical Journal of Australia's editorial discretion. You will be notified by email within five working days should your response be accepted.