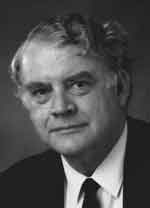 Bernard Amos, former Director General of Health in New South Wales and founding General Superintendent of Westmead Hospital, died on 9 May 2005.
Bernie was born in Townsville on 5 April 1935. He attended secondary school at "Shore" (Sydney Church of England Grammar School) in North Sydney. He became a formidable athlete, representing his school at the top level in cricket (his first love), rugby and athletics. He entered medicine at the University of Sydney in 1953, and began a long relationship with Royal North Shore Hospital (RNSH) as a student in 1956. Initially, he wanted to become a surgeon, but an accident with a blood-transfusion needle damaged a nerve in one hand, and, with characteristic insouciance and competence, he changed direction and completed training as a physician. He moved progressively through the ranks at RNSH, completing his residencies and registrar training and obtaining his Fellowship of the Royal Australasian College of Physicians in 1971.
He became Clinical Superintendent at RNSH, and Director of Medical Services in 1964, while continuing to practise as a physician. Although his subsequent career was strongly identified with health administration, he remained a clinician at heart, with a keen understanding of the difficulties and frustrations of the clinical life.
A critical moment of his professional life came in 1972, when he joined the Project Committee for the proposed Westmead Hospital. Bernie clearly saw the proposed hospital's role in providing medical services in Greater Sydney and in New South Wales. Westmead had unobtrusively become the demographic centre of Sydney's population, and there was a need for high-level teaching hospital services for the Western metropolitan population.
His subsequent career took him further into the public domain. He became Chief Executive Officer of the Cumberland Area Health Service in 1986, and then of the Western Sydney Area Health Service in 1988. His public career reached its zenith with his appointment as Director General of the NSW Department of Health in 1989, an appointment he held until 1993. In recognition of his public service, he was made a Member of the Order of Australia in 1988 and an Officer of the Order of Australia in 1994.
After his retirement in 1993, he continued to consult on health services and became Professorial Fellow in the Department of Public Health and Nutrition at the University of Wollongong. He was Chair of the Johnson & Johnson Medical Education Foundation and of the Institute of Psychiatry, and Deputy Chair of the Centenary Institute at Royal Prince Alfred Hospital. He had been President of the Medical Board of New South Wales from 1984 to 1989, and returned as a member of the Medical Board from 1993 to 1998.
Bernie married Helen Harbison in 1960. Bernie's public success was balanced by a profound devotion to Helen and their four children. He took great pride in his children's achievements and loved spending time with his grandchildren.
Bernie died of complex malignancy just a few weeks after his 70th birthday. In his largeness, his wisdom, his generosity, his restrained vigour, he seemed unfit for death. We offer his family our deepest sympathy, and our gratitude for sharing him with us and with the Australian community.
Miles Little
(With much help from the Amos family, Peter Castaldi and other friends)
Publication of your online response is subject to the Medical Journal of Australia's editorial discretion. You will be notified by email within five working days should your response be accepted.