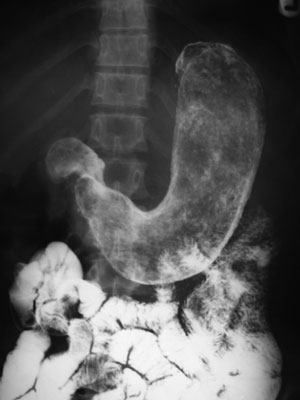 A 25-year-old woman with clinical depression was referred with vague epigastric pain and early satiety after meals for 6 months. Abdominal examination revealed an indentable J-shaped mass in the epigastrium. A barium meal examination was subsequently carried out.
The image shows a whorled, stippled mass occupying the stomach, forming a 'J' shape. The most likely diagnosis was a trichobezoar. Bezoars are of different kinds and commonly include hair (trichobezoar), vegetable fibres (phytobezoar) or medications (pharmacobezoar). About 90% of bezoars are encountered in women, and about 10% of these patients have a psychiatric disorder.
The patient underwent exploratory laparotomy with gastrotomy and removal of a large hairball, which had an extension into the duodenum.
Publication of your online response is subject to the Medical Journal of Australia's editorial discretion. You will be notified by email within five working days should your response be accepted.