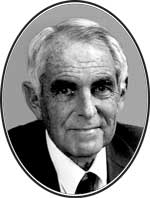 David Ogilvie White was born in Canberra on 30 August 1931 and died on 7 November 2004 after an 11-year battle with primary biliary cirrhosis. David was Professor of Microbiology at the University of Melbourne from 1967 to 1994. He held various high-level appointments at the university, including Head of the Department of Microbiology, Dean of Research and Graduate Studies, Chairman of the Academic Board, and Pro-Vice-Chancellor.
David graduated in medicine from the University of Sydney in 1954 and completed a PhD on influenza virus at the Australian National University in 1958. He was an outstanding teacher of undergraduate students, and was recognised by the University of Melbourne and the Australian Society for Microbiology, each of which has named an annual excellence-in-teaching award in his honour. David's ability as a mentor for research students and staff was exemplary. He supervised numerous BSc Honours and PhD students and a series of outstanding postdoctoral fellows, with whom he coauthored more than 100 original research papers. In 1992, he was made an Officer of the Order of Australia for "service to education, particularly in the field of microbiology".
David authored six major books on virology, including coauthorship with Frank Fenner of Medical virology, a classic text that is used in medical schools throughout the world. He was an editor of the journal Archives of Virology from 1985 to 1994, and served on the editorial boards of several other international journals.
David also held positions on many national and international committees, including Foundation President of the Cell Biology Society of Australia, President of the Australian Society for Microbiology, and Foundation Member of the Commonwealth AIDS Research Grants Committee.
David had lifelong interests in ornithology, exploration and wilderness, and was a life member of the Australian Conservation Foundation and the Bird Observers Club of Australia. He was Grand Master of the Australian Bridge Federation, several times Victorian bridge champion, and an Australian pairs champion.
Despite his remarkable achievements, David was an extraordinarily humble and self-effacing person. Throughout his life, he voluntarily took on an enormous workload, not for self-aggrandisement or personal gain, but in the firm belief that he could make a difference. Those who were privileged to know him will remember his warm, constant and lively friendship.
David is survived by his wife, Marjorie, and their three daughters, Alison, Merran and Rosalind.
Publication of your online response is subject to the Medical Journal of Australia's editorial discretion. You will be notified by email within five working days should your response be accepted.