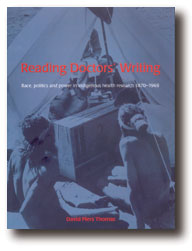 Reading doctors' writing: race, politics and power in Indigenous health research 1870-1969
David P Thomas. Canberra: Aboriginal Studies, 2004 (xvi + 209 pp). ISBN 0 85575 458 3.
This is an apt title for this book. Race, politics and power in Indigenous health research have, not surprisingly, mirrored race, politics and power in Indigenous affairs generally. In order to tackle these subjects, Thomas has provided an interesting history of the development of medical associations and medical journals in Australia.
The notion of Aboriginal people as primitive and a dying race who needed to be studied before they became extinct permeated much of the early research — "smoothing the pillow of a dying race". But it was not simply a matter of Aboriginal people needing to be studied while the opportunity was still there. It was also an issue of the health of Aboriginal people potentially impacting on the health of non-Aboriginal people, and of the potential to learn things of value to the non-Aboriginal population by studying the health of Aboriginal people. This was all caught up with power relationships between Aboriginal people as research subjects and non-Aboriginal people as researchers and administrators.
The concept of Aboriginal people being research subjects because they were considered to be more "primitive" was pervasive, and this belief led to a variety of wider paternalistic and repressive policies. In 1961 Sir Paul Hasluck, then Federal Minister for Territories, felt obliged to write that "I myself am not disposed to direct that wards can be sampled like a herd of cattle[.] Personal willingness of native people to assist is essential." This statement is an interesting reflection on the tenor of the times.
The sad part of all of this is that, with few exceptions, little research appears to have been done in that period with the explicit aim of helping to improve the health of Aboriginal and Torres Strait Islanders. Most researchers reflected the prevailing mood, but there were occasional exceptions, continuing the tradition of individual doctors arguing for a wholly different viewpoint against the mainstream, and perhaps with more than a little effect.
There is much in this book for those with an interest in doctors' role over a 100-year period in one of the major unresolved issues in Australian public health.
Ian T RingEpidemiologist Health Information Centre Queensland Health, Brisbane, QLD
Publication of your online response is subject to the Medical Journal of Australia's editorial discretion. You will be notified by email within five working days should your response be accepted.