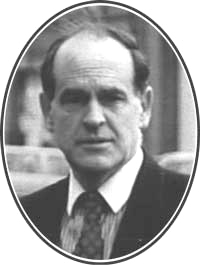 Bruce Griffiths was born in Ballarat on 13 October 1938 and died on 15 October 2004, only a few weeks after being diagnosed with a brain tumour.
A son of the late "W R" Griffiths, obstetrician and gynaecologist and former President of Ballarat Base Hospital, Bruce followed in his father's footsteps.
After graduating from the University of Melbourne in 1963, Bruce spent a year as a Resident Medical Officer at Launceston General Hospital in Tasmania. This, together with being born into a rural medical family, convinced him that eventually his career lay outside the capital cities. He left Australia for 4 years to train in the United Kingdom, and became a Fellow of the Royal College of Surgeons of Edinburgh in 1968. He then returned to Launceston for a year before moving to Ballarat, where he practised for more than 20 years.
Bruce was a true generalist, holding appointments as a general surgeon at Ballarat Base Hospital and The Queen Elizabeth Centre, while at the same time practising as a general practitioner in the Ballarat Group Practice.
He played a significant role in the Professional Staff Group of the Base Hospital. In particular, he was the Group's chairman in the late 1980s during the planning of the new ward and operating theatre block. Few staff, patients and visitors who walk through the wonderful building today know that they do so only because of the earlier vision and perseverance of people such as Bruce.
Bruce resigned from the Ballarat Base Hospital in 1992, but continued to devote his life to the care of rural Australians. After leaving Ballarat, he practised in Derby (WA) and Maryborough (QLD), before joining an Aboriginal health centre in Kempsey (NSW). He was still working at the centre just 5 weeks before his death.
When Bruce left Ballarat, the Director of Medical Services wrote at the time that Bruce was owed a debt for the work he did at the Base Hospital over many years. Perhaps it was in part repayment of the debt that, on learning of his illness, friends travelled from Ballarat to his home in NSW to say farewell.
Bruce is remembered as a man of few words, but his opinions were always considered and truly held. He loved music, was devoted to his family, and was a familiar figure walking his labrador dogs around Lake Wendouree.
Bruce is survived by his wife Wanda and three sons.
Publication of your online response is subject to the Medical Journal of Australia's editorial discretion. You will be notified by email within five working days should your response be accepted.