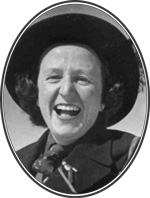 Jean Edwards was an eminent radiologist who was also well renowned for her knowledge of general medicine.
Jean was born in Woollahra, Sydney, on 25 November 1913. She attended Frensham School, and graduated in medicine from the University of Sydney in 1938. After working as a junior Resident Medical Officer at Sydney Hospital, she married George Read, a former fellow medical student, in 1940.
On completing her studies, Jean intended to become a paediatrician. However, when the war intervened, her father asked her to join his radiology practice in Macquarie Street. As there was no formal training in radiology at the time, Jean became a "radiological apprentice", learning to take, process and report on x-ray films. Soon afterwards, she was invited to join the honorary staff at the Rachel Foster Hospital (RFH) as a radiologist. During her time at RFH, she also held honorary positions at Royal Prince Alfred Hospital (RPAH) and St Vincent's Hospital.
Jean's sons, Andrew and David, were born in 1941 and 1944, respectively. She continued her career while raising her children. However, her family commitments led her to decline a later offer to join RPAH as Director of the Radiology Department.
In 1955, Jean joined a private practice at Campsie, where she remained until 1980. She continued to work as an honorary medical officer at three public hospitals (RPAH, RFH and Canterbury Hospital). These were very happy years. The patients were diverse, including many rugby league players and a pet python!
Jean had developed a love of art, history and poetry while at Frensham School. She maintained a long association with the school, acting as both a Governor and Chair of the Board for many years. Jean was fond of a passage by Walter Savage Landor ending with the words "whatever may become of the fruit, make sure of the flowers and leaves". This summed up her philosophy on life.
Jean was a keen skier and a member of the Sydney University Ski Club. She was a talented artist, pursuing her interest in art as a member of the Medical Art Group. After her retirement, she worked as a volunteer at the Genealogical Society and enjoyed afternoons in Centennial Park with her grandchildren.
Jean died on 30 May 2004, at the age of 90, after a prolonged illness.
Rebecca Read
Publication of your online response is subject to the Medical Journal of Australia's editorial discretion. You will be notified by email within five working days should your response be accepted.