A 22-year-old man presented to our accident and emergency department an hour after a motor vehicle accident. He had no history of seizures. On examination, he was alert, haemodynamically stable and his Glasgow Coma Score was 15/15. Both pupils were normal in size and reacted to light. His left eye was slightly protruded, and a rigid radio antenna about 12 cm long emerged from below the left lateral canthus (Figure 1). His visual acuity was normal, and he had no diplopia.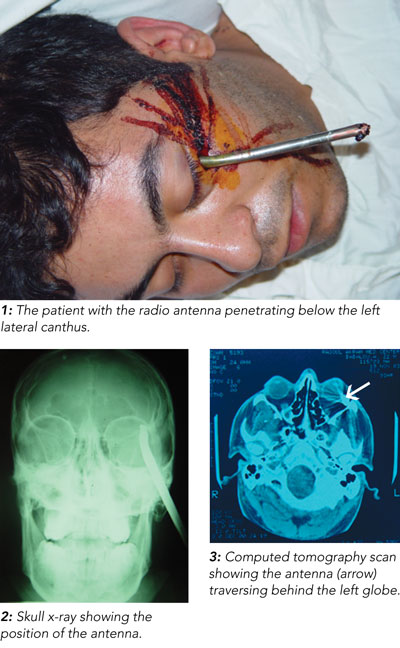 Skull x-rays showed the antenna in the left anterior fossa (Figure 2). A computed tomography scan showed it traversing behind the left globe (Figure 3) as far as the left anterior cranial fossa, with the tip embedded in the region of the left sylvian fissure. There was minimal subarachnoid haemorrhage over the surface of the temporal lobe.
The patient underwent emergency left frontotemporal craniotomy. At surgery, the antenna was seen to penetrate just lateral to the superior orbital fissure and reach the dura and the temporal lobe (the left sylvian fissure). The antenna was removed, and the patient was discharged from hospital several days later without any visual or neurological complications.
Penetrating intracranial foreign bodies at low velocity characteristically enter via the orbital roof, the temporal squama or the cribriform plate. In this case, the antenna penetrated the orbital roof — one of the thinnest areas of cranial bone — without injury to the globe of the eye, or any neurological complications.
We recommend that in cases such as this, with minimal external findings and normal neurological examination, simple external traction should be avoided.
1. Smrkolj V, Balazic J, Princic J. Intracranial injuries by a screwdriver. Forensic Sci Int 1995; 76: 211-216.
Publication of your online response is subject to the Medical Journal of Australia's editorial discretion. You will be notified by email within five working days should your response be accepted.