A 28-year-old man presented with a cough of one month's duration and intermittent fever. Physical examination showed reduced breath sounds and fine inspiratory crackles at both lung bases. A chest x-ray showed diffuse micronodules in both lung fields, and a computed tomography scan revealed tiny calculi (calco-spherites) in the alveolar air spaces (Box).
Pulmonary alveolar microlithiasis is a rare disease of unknown aetiology; about 400 cases have been reported. Patients can present with any of a variety of chest symptoms (eg, a non-productive cough and dyspnoea on exertion). Most reported cases involve people in the 20 to 50 years age group. About 50% of cases are familial. There is no definitive treatment, but disodium etidronate has been tried. The prognosis is variable. It has been suggested that, in many patients, the microliths continue to form and increase in size as the disease progresses. When the disease does progress, it may do so very slowly — patients have been reported in whom respiratory failure and death ensued after a period as long as 40 years.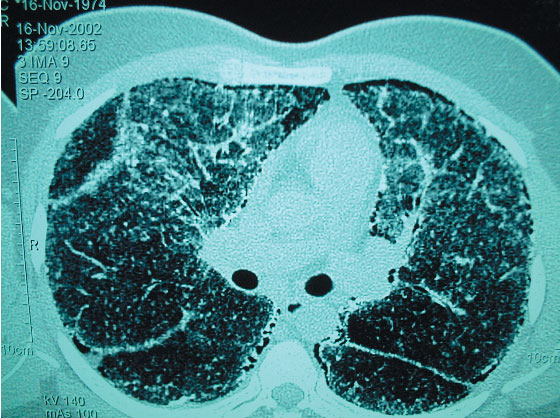 Publication of your online response is subject to the Medical Journal of Australia's editorial discretion. You will be notified by email within five working days should your response be accepted.