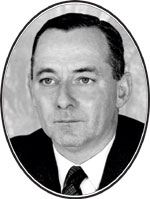 Former Director General of Public Health and a loyal and long-serving member of the New South Wales medical fraternity, Cyril Joseph Cummins spent more than 30 years committed to improving public health and health services.
Cyril was born in Sydney on 10 November 1914. He attended Marist Brothers High School, Darlinghurst, where he excelled academically and at sport, completing his studies at the age of 16. Too young for university, he began a cadetship in journalism, but later enrolled in medicine at the University of Sydney to pursue his interest in health issues.
After graduation in 1937, Cyril began his residency at St Vincent's Hospital, where he later became Medical Superintendent. It was there that he met Eileen, a nurse, whom he later married.
In 1939, Cyril joined the Royal Australian Air Force and rose to the rank of Wing Commander in charge of the No. 3 RAAF Hospital. While holding an administrative position in New Guinea during the war, he was often called upon to give anaesthesia during busy surgical periods.
After the war, he worked for 3 years in a specialist practice in occupational health and was also a consultant in industrial medicine to the Department of Post-War Reconstruction before completing a Diploma of Public Health at the University of Sydney.
In 1950, Cyril became Director of Industrial Hygiene at the Department of Public Health, where he was later promoted to the positions of Deputy Director of Public Health and Director General of Public Health.
Cyril was passionate about his work and had a tremendous ability to organise and influence committees. His keen interest in mental health led him to take on the position of Director General of State Psychiatric Services in 1961, in addition to his role as Director General of Public Health.
Cyril also held appointments in a number of healthcare organisations, including the World Health Organization, the Nurses Registration Board and the Board of Health, and acted as Commissioner under the Venereal Diseases Act.
Cyril produced more than 25 publications spanning a range of health-related issues, including mental health, aged care and infectious diseases. His article outlining the history of the Colonial Medical Service in NSW has been recognised as a valuable public resource and is now available on the NSW Health website (www.health.nsw.gov.au/history/med_admin).
Cyril retired at the age of 60 to spend time with his family and to follow his great interest in horse-racing. Sadly, Eileen died in 1992, and some 6 years later Cyril moved to the Central Coast to be nearer his daughter and grandchildren. He died peacefully in his Woy Woy home on 19 July 2003.
Kimberley Moore
Publication of your online response is subject to the Medical Journal of Australia's editorial discretion. You will be notified by email within five working days should your response be accepted.