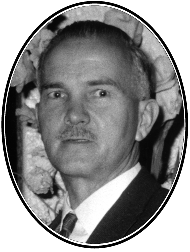 Walter Monz was born in Boonah, in south-east Queensland, on 8 July 1914. He was educated at Brisbane Boys Grammar School, where he won a prestigious science prize. After completing the first year of the basic sciences course at the University of Queensland, he proceeded to the University of Sydney, where he graduated MB BS with Honours in 1939. (There was no medical school in Brisbane at the time.)
Walter worked at the Brisbane General Hospital (now the Royal Brisbane Hospital) from 1940 to 1942, when he joined the Royal Australian Army Medical Corps. He was based on Thursday Island, where he worked at the 106th Australian Casualty Clearing Station of the Australian Imperial Force. He was also the Medical Officer to the Japanese prisoner-of-war camp on Thursday Island.
Following demobilisation in 1945, Walter became a general practitioner in Goomeri, in south-east Queensland. In 1950, he set up a solo general practice in the Brisbane suburb of Yeronga, where he remained for the next 50 years, until severe osteoporosis forced him to retire in 2000.
Walter was a Foundation Member of the Thoracic Society of Queensland (1945) and the Royal Australian College of General Practitioners (RACGP) (1958). He was also a life-long member of the Queensland Branch of the British Medical Association (later a branch of the Australian Medical Association).
Walter was a skilled photographer and had a great interest and expertise in the area of audiovisual aids as an integral part of the Continuing Medical Education program. In 1968, he was elected Chairman of the Audio-Visual Aids Sub-Committee of the Medical Education Standing Committee of the Queensland Faculty of the RACGP. He was subsequently elected to the Queensland Faculty Board, and remained a Board member until 1986.
Walter was a quiet, gentle, unassuming, and very private person. He died on 29 January 2003, aged 88 years, after a fall. He is survived by his daughters Pamela and Deirdre.
Walter made generous bequests to the Queensland Faculty of the RACGP and St Andrew's Lutheran Church on Wickham Terrace, Brisbane, with which his family had a long association.
Publication of your online response is subject to the Medical Journal of Australia's editorial discretion. You will be notified by email within five working days should your response be accepted.