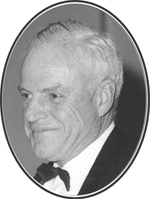 Ian Gardiner, the second son of Scottish immigrants, was born in Sydney on 30 December 1915. He attended Canterbury Boys High School and studied medicine at the University of Sydney, graduating in 1939. During his undergraduate years he was a member of the Sydney University Regiment and represented the university at baseball.
Ian did his residency at Royal South Sydney Hospital, where he met Betty, a charge nurse, whom he married in 1941. After a stint in general practice at Cessnock, Ian joined the Royal Australian Air Force as a medical officer. Having a keen interest in what is now called "electronics", he was seconded to the Neurophysiology Department of Sydney University for research on "g" forces. In 1945, he spent 6 months in Dayton, Ohio, to further this work. Ian, in conjunction with Geoff Trahair and Vince Bennett, assembled the first electroencephalographic (EEG) machine in Australia. A plaque at the Royal Prince Alfred Hospital, Sydney, records this event.
Between 1946 and 1967, Ian worked as a general practitioner in Sydney and other parts of New South Wales: Lidcombe, Helensburgh, Berridale and finally Ryde. He developed a large practice specialising in psychosomatic illnesses. Although this was very demanding work, Ian was renowned for his great patience and understanding. He was a GP of the "old school" — surgeon, anaesthetist, obstetrician, family counsellor, physician and friend to so many of his patients.
From 1967 to 1978, he worked as a Medical Officer in psychiatry for the NSW Health Commission.
Ian was meticulous in all things, from his copperplate writing to his spotless car and impeccable personal appearance. He had several passions in life. Firstly, red wine, for which he had developed a taste during his early GP days in Cessnock (near the Hunter Valley wineries). Secondly, lawn bowls, for which he won the state No. 2 Pennant with the Ryde Bowling Club. Thirdly, driving in the outback. He combined this interest with his professional life by providing a visiting psychiatric service to Broken Hill and the far west of New South Wales. Fourthly, electronics, a lifelong hobby and passion. Ian built his own radiogram, obtained his ham radio licence at 15 years of age, had his own transmitter and receiver, and was a constant purchaser at Dick Smith electronics stores. But Ian's greatest passion was his family. For them he was a constant source of inspiration — unconventional, questioning and challenging.
He died on 2 April 2003 of heart-related illness and is survived by his wife Betty and children Judy, Ian, Fiona and Susan.
Publication of your online response is subject to the Medical Journal of Australia's editorial discretion. You will be notified by email within five working days should your response be accepted.