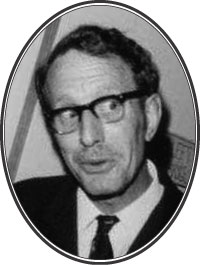 Whether it was his unusual culinary flair or the way he discovered his profession, there was nothing conventional about Vernon Richard Keep.
Born in Harrow, UK, on 22 July 1927, Vernon had set his sights on being a naval engineer. Joining the Royal Navy in 1944, he spent four years as Chief Stoker aboard the Duke of York and various Australian warships, until pulmonary tuberculosis cut short his naval ambitions. Twelve months of being laid up in various sanatoria kindled Vernon's interest in bacteriology and sowed the seeds of his medical career. On release, he was advised that he would need a medical degree if he wanted to be a bacteriologist.
Upon matriculating, Vernon enrolled in Middlesex Hospital Medical School, London, in 1949. Recurring TB meant a protracted study period, and he graduated in 1957. After various training posts in medicine, surgery, casualty and urology, he settled on the emerging field of anaesthesia. Training included thoracic surgical anaesthesia at the Brook Hospital, London, and plastic and faciomaxillary surgical anaesthesia at the Queen Victoria Hospital, East Grinstead. His pioneering work included opening one of the world's first intensive care units at Middlesex Hospital.
Disenchanted with the British National Health Service, Vernon migrated with his young family to Perth, Western Australia, in 1962. On arrival, he briefly held the position of Staff Anaesthetist at Royal Perth Hospital before being appointed the first Director of Anaesthesia at Fremantle Hospital. It was during his tenure at Fremantle that he formulated the Civil Disaster Plan for the busy port city.
Improvements in anaesthetics led him to experiment with the concept of rapid-recovery day surgery, and he opened the first custom-designed clinic, Kaleeya House, in 1968. Interest was so great that, in 1974, the first purpose-built outpatient hospital in Australia, Kaleeya Hospital, was opened in East Fremantle. As Chairman of the Board, he oversaw the finer details, such as the selection of lime-green paint and psychedelic bed linen.
In 1980, Vernon and his wife Lyn retired to their farm, "Lanark Park", in Wokalup, for some "peace and quiet". But retirement proved short-lived, and he took up various medical positions around the Harvey area until ill health forced him into hospital in October 2002.
From his ward on the ninth floor of Fremantle Hospital, Vernon was reassured to see his old surgery, Kaleeya House, and the Medical Library at Fremantle Hospital, which he had founded nearly 40 years previously. He died on 4 January 2003 from pneumonia complicated by TB damage and emphysema. He is survived by three sons and three grandchildren.
Publication of your online response is subject to the Medical Journal of Australia's editorial discretion. You will be notified by email within five working days should your response be accepted.