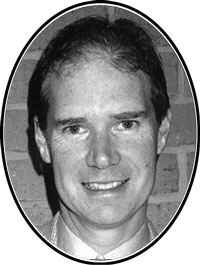 On 11 September 2002, at the age of 45, Tim McArdle was killed in a road accident while cycling.
Tim was the third of seven children, a son of the late Frank McArdle, formerly a general practitioner in Ballarat, Victoria, and mother Patricia, a nurse and nurse educator. Born on 30 September 1956 in Ballarat, he was educated at Villa Maria and St Patrick's College, Ballarat. Tim was an outgoing, humorous and playful person who loved people. From an early age, his many talents and formidable intellectual qualities were evident. He gained a place at Monash University Medical School in 1974 and completed the medical course with seemingly effortless ease, graduating among the top 10 students in his year.
Tim worked at Prince Henry's Hospital, Melbourne, the Royal Children's Hospital and the Queen Victoria Medical Centre, where he obtained a diploma in obstetrics and gynaecology. He then spent a year in Cohuna, in northern Victoria, working in a typical rural general practice, before returning to Melbourne to run the Moorabbin Hospital Emergency Department for a year.
In 1987, Tim was invited to Warragul, in south-eastern Victoria, where he decided to join an established practice because of the congeniality of the colleagues and the "grass tennis courts". It was in Warragul that his medical and personal skills blossomed and he developed a love for the local community. He had the good fortune to enter a happy and thriving medical practice, working with colleagues with whom he established wonderful personal and professional friendships. Tim's own practice focused on maternal and child health, but over the years he branched out into other areas.
Tim's interest in community medicine inspired him to write a weekly local newspaper column on health issues for 15 years, under the by-line of "Dr Kev". In more recent years, he chaired a regular session on health issues on ABC Regional Radio. In 2000, he spent five weeks as a volunteer medical practitioner in East Timor.
Tim loved sport, including tennis, golf, cross-country skiing and horse-racing, which for him were a source of relaxation and comradeship. He was also a natural musician and inveterate performer. He supported himself at university playing piano in restaurants and bars, and later played for 12 years with a group of medical friends in a local Warragul band called "The Fabulous Beatroots".
Tim appeared particularly happy and content in the company of his partner Robyn during the last year before his death. His sudden and tragic death leaves a huge gap in rural medical services and is an enduring loss to his mother, siblings and many friends.
Publication of your online response is subject to the Medical Journal of Australia's editorial discretion. You will be notified by email within five working days should your response be accepted.