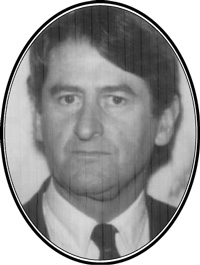 There were many facets to Peter Ryan's busy life. He was a family man, surgeon, scientist, teacher and serviceman. Born on 25 November 1925 in Dookie, Victoria, to farming parents, he was the eldest of four boys. He was dux of Assumption College, Kilmore, and studied medicine at Melbourne University. He graduated in 1948 and was a Resident Medical Officer at St Vincent's Hospital. In 1950, he married Margery Manly, an Arts graduate.
Peter served as a Major in the Royal Australian Army Medical Corps in Japan and Korea (1953–1954), then worked for a number of years in England. After obtaining his Fellowship of the Royal College of Surgeons, he spent three years at the Leicester General Hospital.
Upon his return to Australia in 1960 he joined the surgical staff at St Vincent's Hospital, Melbourne. In 1972, the Ryan Unit was established, with Peter as the Inpatient Surgeon. It later became the Department of Colon and Rectal Surgery, with Peter as its first Director. He retired from St Vincent's in 1990.
Peter had a keen intellect and an inquiring, even restless, mind. His laboratory work included studies of the effects of a proximal colostomy on bowel anastomoses. In 1986, his Hunterian address to the Royal College of Surgeons was on diverticular disease. He was the first to advocate immediate resection (with anastomosis) in selected cases of diverticular perforation.
Peter was keen to share Australian surgical expertise with medical colleagues in Asia. In 1965–1966, he led a St Vincent's surgical team to Long Xuyen, in Vietnam. He also established a program of visiting Fellows from Japan and Indonesia, and lectured in Kuala Lumpur and Jakarta. He was the first Honorary Fellow of the Indonesian Surgical Association.
Peter was President of the International Society of University Colon and Rectal Surgeons (1986–1988) and an original member of the Royal Australasian College of Surgeons' Road Trauma Committee, which was responsible for the introduction of compulsory car seatbelts.
His knowledge of anatomy and ability to sketch clearly made him a popular teacher. He was proud of his small red book entitled A very short textbook of surgery, which ran to several editions and was translated and widely used in China. He was an author of over 50 journal articles.
Peter and Margery raised 10 children and, despite his busy professional and academic schedule, he instilled in them his love of literature and music. Three of his children — Rowena, Jeremy and Roderick — followed him into medicine.
Peter was a pioneer in colorectal surgery and was awarded the Medal of the Order of Australia in 2002, shortly before his death on 3 June 2002.
Publication of your online response is subject to the Medical Journal of Australia's editorial discretion. You will be notified by email within five working days should your response be accepted.