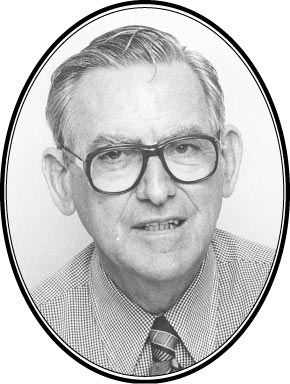 Henry Oliver Lancaster was born in Sydney on 1 February 1913, but spent his early years in Kempsey, NSW, where his father had a medical practice. His father died when Oliver was almost nine, and he boarded in Kempsey through his primary and West Kempsey Intermediate High School years. After a year studying economics/arts at Sydney University, he enrolled in medicine in 1931 and graduated in 1937. In that year he worked as a Resident Medical Officer at Sydney Hospital, and in 1938 as a pathologist and Senior Medical Officer.
Lancaster joined the Australian Imperial Force as a Medical Officer in 1940, and later served as a pathologist in the Middle East and New Guinea. His first two papers (jointly with T E Lowe), on worm infestations in troops, were published in the Medical Journal of Australia in 1944. The same year, a secondment to the Australian New Guinea Administrative Unit awakened his interest in demography and sparked his return to the serious study of mathematics.
From 1946 to 1948, while on a temporary appointment to the School of Public Health and Tropical Medicine (SPHTM) (affiliated with Sydney University), he took the opportunity to study advanced mathematics and read the work of the English and American medical statisticians/epidemiologists. In 1948, he left to spend a year as Rockefeller Fellow in Medicine at the London School of Hygiene.
After returning to work at the SPHTM, Lancaster was involved with statistical and epidemiological studies of disease in Australia, including diabetes, cancer (notably melanoma and its association with latitude) and tuberculosis. In 1941, the ophthalmologist Norman Gregg had observed that many cases of cataract were the result of maternal rubella in the first month of pregnancy. This was to lead to Lancaster's landmark discovery that "ordinary" rubella infection of pregnant women (rather than a new, highly virulent strain, as Gregg had thought) was linked with congenital deafness of offspring.1
In 1959, Lancaster was appointed to the Foundation Chair of Mathematical Statistics at the University of Sydney, a position he held until his retirement in 1978. He was elected a Fellow of the Australian Academy of Science in 1961, and awarded its Thomas Ranken Lyle Medal for Physics and Mathematics in the same year. He was awarded an MD in 1967, and in his retirement returned to intensive writing in medical statistics. His publications included Expectations of life (1990), a massive study of world mortality, and Quantitative methods in biological and medical sciences. A historical essay (1994).
Oliver was made an Officer of the Order of Australia in 1992 for services to science. An account of his career, Some recollections of Henry Oliver Lancaster (1996), edited by his brother Richard, is in the Sydney University archives. He died in Sydney on 2 December 2001 of coronary heart disease.
1. Lancaster HO. Deafness as an epidemic disease in Australia. BMJ 1951; 2: 1429-1432.
Publication of your online response is subject to the Medical Journal of Australia's editorial discretion. You will be notified by email within five working days should your response be accepted.