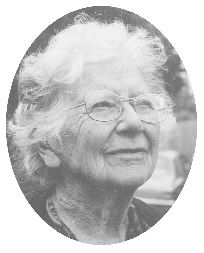 Gwen Nash was born in Cairo, Egypt, in 1904, of missionary parents. After World War I the family migrated to Sydney and Gwen studied medicine at Sydney University, where she was one of only seven women in a class of 56. After graduation, she worked at Prince Alfred Hospital, Crown Street Women's Hospital and the Children's Hospital. In 1932 she enrolled at the Melbourne Bible Institute, where she met her husband, Laurence Nash. When they were married in 1933 she followed him to Hong Kong, where she became Director of Women's Medical Services.
Gwen returned to Australia at the outbreak of World War II when her husband joined the Royal Australian Navy. During the war Gwen raised three children and continued working in general practice in East Melbourne and at the Freemasons and Queen Victoria hospitals.
In 1944 the family moved to Hobart. Gwen worked as a government medical officer, as well as giving regular religious devotional talks for the ABC (the "token woman", she said).
It was when the family moved to Melbourne, in 1952, that Gwen started training in psychiatry at Royal Park Psychiatric Hospital under the tutelage of Dr John Cade. She subsequently worked as a psychiatrist at the Alexandria and Malvern clinics and resumed her religious broadcasting.
In 1965, after Laurence died suddenly, she moved to Armadale, Victoria. She worked for the Victorian Health Department, including a year as Superintendent of Ararat Psychiatric Hospital and, after this, set up in private practice as a psychiatrist. She served on the Anglican diocese as honorary psychiatrist on the Diocesan Selection Board. Gwen enjoyed retirement in Glen Iris, until a fall resulted in a broken hip. From then she slowly deteriorated and in January 2000 moved to a nursing home, where she died on 4 September 2001, aged nearly 97.
Gwen's passions were the well being of her patients, her Christian faith, her family, and a wide circle of friends in Australia and overseas. She was deeply concerned that women have the opportunity to be educated, to have careers and to value their own experience, and she mentored many women professionally and privately. She leaves behind many people whose lives have been enriched by her generosity and her steadfast faith.
Publication of your online response is subject to the Medical Journal of Australia's editorial discretion. You will be notified by email within five working days should your response be accepted.