During the coronavirus disease 2019 (COVID‐19) epidemic, the continued presence of viral RNA in the upper airways of infected people has been reported.1 Such persistence does not necessarily signify active infection or that the virus can be transmitted.2 In Queensland, repeat testing for severe acute respiratory syndrome coronavirus 2 (SARS‐CoV‐2) in people with an initial positive test result was undertaken until June 2020, providing an opportunity to explore patterns of test positivity, apparent rates of clearance of viral RNA, and the extent to which each varied by the age and sex of the infected person.
We analysed de‐identified data for people who underwent swab tests for SARS‐CoV‐2 processed in Queensland Health public laboratories between 10 January and 4 June 2020. SARS‐CoV‐2 RNA was detected by polymerase chain reaction (PCR). Testing was initially restricted to people with relevant symptoms who had visited high risk areas (Box 1); from April 2020, anyone with relevant symptoms could be tested. We analysed data on PCR test result, age and sex of the tested person, and postcode of the facility that requested the test; clinical information and reasons for testing were not available. People with positive results who subsequently received two consecutive negative test results at least 24 hours apart were defined as achieving "negative status". Details of dataset structure, analysis and visualisation methods and code have been reported elsewhere.3,4 Our investigation was exempted from formal ethics review by the Gold Coast Health Human Research Ethics Committee (reference, LNR/2020/QGC/63045).
We analysed data for 103 984 swabs from 97 476 people during the 146‐day study period. Time to negative status was examined by Kaplan–Meier analysis. Differences by age (under 65 years, 65 years or over) and sex, with adjustment for both, were calculated by Cox regression. Other associations between variables were quantified as unadjusted odds ratios. The timing of sample collection, particularly of repeat swabs, was not standardised, reflecting the exploratory nature of SARS‐CoV‐2 testing early in the pandemic.
The median age of tested people was 41 years (interquartile range [IQR], 27–57 years; range, under one to 105 years); 55 708 (57%) were female. Nine hundred and fifty‐eight people (0.98%) were positive for SARS‐CoV‐2; their median age was 45 years (IQR, 29–61 years; range, under one to 88 years), and 496 were female (52%). Compared with people under 16 years of age, the odds of a positive result were higher for people aged 17–64 years (odds ratio [OR], 5.2; 95% confidence interval [CI], 3.4–8.1) and for those aged 65 years or more (OR, 6.0; 95% CI, 4.0–9.5); the odds of a positive test were lower for females than for males (OR, 0.80; 95% CI, 0.70–0.91).
The numbers of people tested and of those positive for SARS‐CoV‐2 both peaked in the second half of March 2020, after which testing rates declined until late April before climbing again, while positivity rates remained low (Box 1).
Of the 958 people with positive test results, 317 (33.1%) had repeat tests. Of the 243 people with initial positive results and at least two repeat tests, 147 (60.5%) achieved negative status. The median age of those who achieved negative status was 45 years (IQR, 30–59 years; range 20–84 years); 94 were women, 53 men (OR, 1.7; 95% CI, 1.0–2.9). Of the 243 people who underwent two or more repeat tests, 224 (92.2%) had positive results beyond 10 days and up to 72 days after their initial tests (Box 2). Seven of 147 people who achieved negative status (5%) subsequently had positive test results, including six men.
For the 147 positive patients who achieved negative status, median time to clearance was 31 days (IQR, 18–47 days), and was unaffected by sex (women, 30 days; IQR 16–45 days; men: 31 days; IQR 20–49 days; hazard ratio [HR], 0.93; 95% CI, 0.66–1.3). Clearance was more rapid in people under 65 years of age (median, 29 days; IQR, 17–45 days) than in people aged 65 years or more (median, 43 days; IQR, 25–62 days; HR, 1.82; 95% CI, 1.17–2.93) (Box 3).
We found that positive PCR test results often persisted for ten or more days after an initial positive result, in one case for 72 days. Such persistence does not indicate continued viral replication.2,5 From 21 March 2020, patients in Queensland, other than workers at high risk, were released from isolation on the basis of their symptoms and illness duration (ie, without further testing), and local transmission declined to zero (Box 1). Our finding of lower infection rates in younger people is consistent with previous reports,6 as is our finding that infection rates were higher for males than females.7 After adjusting for age, the viral clearance rate was similar for males and females. Clearance was greater for people under 65 years of age than for those aged 65 or more, as noted previously.8 This effect may have clinical significance; rates of hospitalisation, admission to intensive care, and death from COVID‐19 are higher among older people.
Box 1 – Numbers of SARS‐CoV‐2 tests processed by Queensland Health public laboratories and of people with positive results, 10 January – 4 June 2020, with trend lines and indications for testing*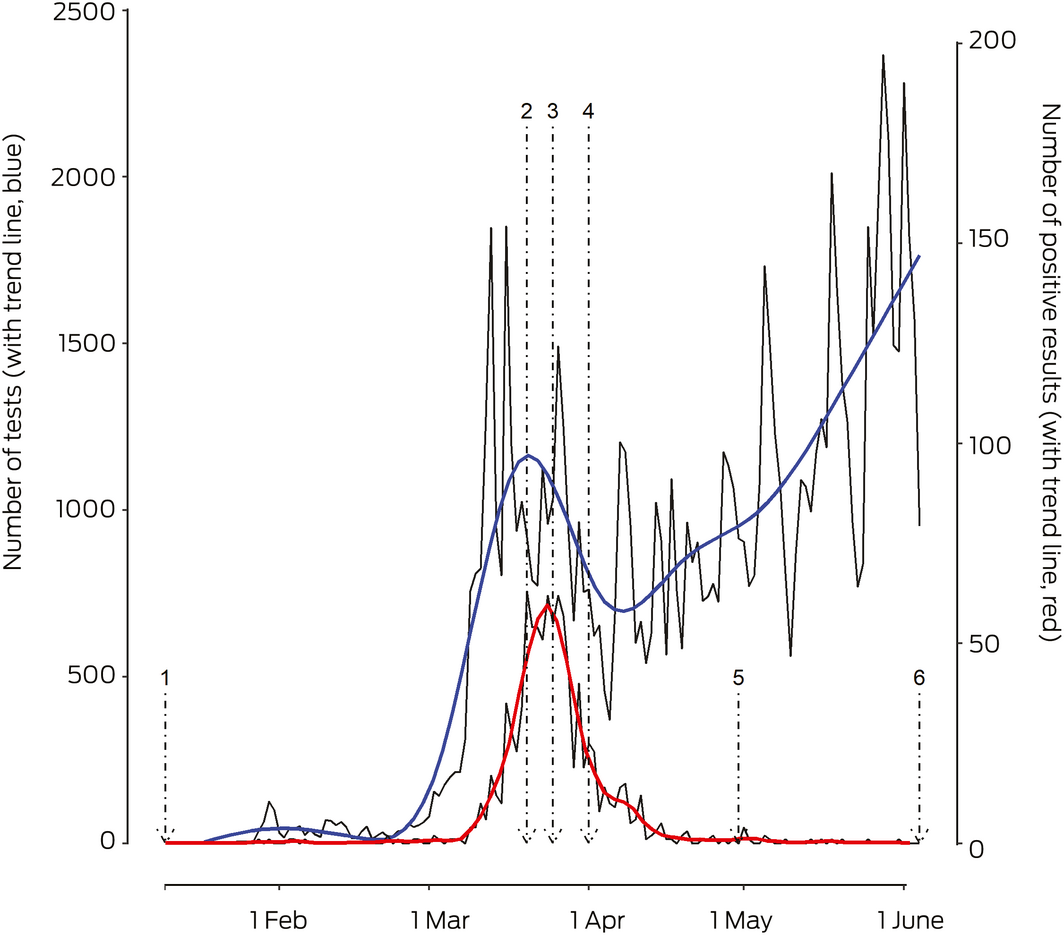 ---
* Repeat tests after first positive result are not included. Test trend line based on a generalised additive model for "all tests"; positive result trend line based on local polynomial regression fitting.
Box 2 – Categorical heat map of SARS‐CoV‐2 tests for people with initial positive results who had at least two subsequent tests
---
Received 25 August 2020, accepted 27 November 2020
Publication of your online response is subject to the Medical Journal of Australia's editorial discretion. You will be notified by email within five working days should your response be accepted.