The Australian e-Health Research Centre,1 in collaboration with the Queensland University of Technology's Paediatric Spine Research Group,2 is developing software for visualisation and manipulation of large, three-dimensional (3D) medical image datasets. The software allows the extraction of anatomical data from individual patients for use in preoperative planning. State-of-the-art computer technology makes it possible to slice through the image dataset at any angle, or manipulate 3D representations of the data instantly.
Although the software was initially developed to support planning for scoliosis surgery, it can be applied to any dataset whether obtained from computed tomography, magnetic resonance imaging or any other imaging modality.
Extraction of anatomical data from three-dimensional image datasets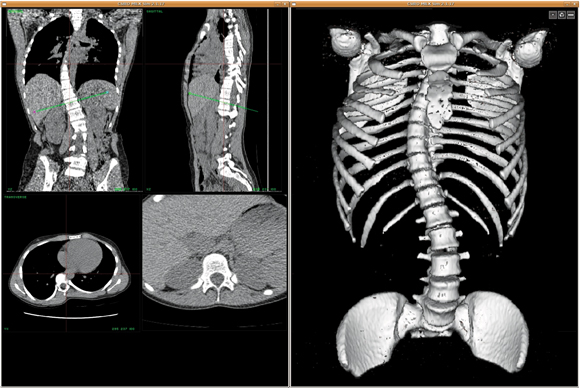 ---
Screenshot of the software visualising a three-dimensional (3D) computed tomography dataset from a patient with scoliosis. The left window shows coronal, sagittal and transverse cross-sections of the dataset, as well as an arbitrary transverse cross-section defined by the green lines on the coronal and sagittal cross-sections. The right window shows a 3D reconstruction of the skeletal information derived from the dataset.
Publication of your online response is subject to the Medical Journal of Australia's editorial discretion. You will be notified by email within five working days should your response be accepted.